Shares of Sovos Brands up 13% on first full day of trading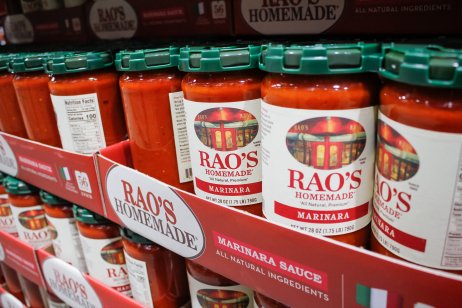 Shares of Louisville, Colorado-based food brand company Sovos continued to climb during their first full day on the New York Stock Exchange.
Shares closed at $13.78 (£10.07) per share, representing a 1.96% increase from their opening position on the day.
Shares are up more than 13% from their initial list price of $12 per share on Thursday afternoon.
About Sovos
Sovos is one of the fastest growing food brands in the US. Its portfolio includes four well-known brands, including Rao's, Michael Angelo's, noosa and Birch Benders.
As of June 2021, Rao's makes up more than 55% of Sovos' sales, according to the prospectus the company filed with the Securities and Exchange Commission. Since the company acquired Rao's in 2017, Sovos has taken the brand from being ranked seventh in the pizza and pasta sauce category to third among its competitors.
Sovos has experienced similar overall growth as well. The prospectus says it earned more than $560m in revenue in 2020, a 44% increase from the prior year.
"We are relentlessly focused on delivering consumers brands with authenticity at their core," the prospectus says. "We share the authentic origin stories behind our brands and create delicious food with simple ingredients and maximum consumer impact."
Public listing
When Sovos originally filed to go public, the company planned to offer its shares at between $14 and $16. However, the company lowered its price per share to $12 Wednesday.
This price was good enough for Sovos to bring a $1.17bn valuation to market.
The company managed to raise more than $280m by selling more than 2.3 million shares. Underwriters of the deal, such as JP Morgan and Goldman Sachs, have 30 days to exercise an option to purchase 3.5 million more shares, the prospectus says.
Sovos plans to use the funds it raised to repay outstanding debts and for general "corporate purposes," the prospectus says.
Market outlook
While Sovos may be relishing its recent success on the market, some researchers say there might be room for it to continue growing.
Analysts at Grand View Research expect the packaged food industry to reach a valuation of $1.3bn by 2028 at a compound annual growth rate of 4.1%.
"The hectic work and life schedules of consumers across the country and the rising preference for convenience have been driving the market over the years. Furthermore, the escalating expansion of e-commerce in the US boosts the sales of the products over the nation," the research concludes.
Read more: Online customers surged in Southeast Asia since COVID-19