Shares of Nerdy gain on first day of trading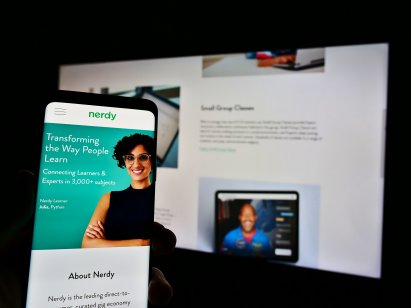 Shares of education technology company Nerdy gained 3.21% Tuesday, the company's first day as a publicly listed entity.
Shares opened today at $10.96 (£8.02) and rounded out the day at $11.56, representing a gain of $0.31 per share.
SPAC deal
Last week, Nerdy announced it was going public after shareholders approved a merger with special purpose acquisition company (SPAC) TPG Pace Tech Opportunities.
The deal netted Nerdy approximately $575m in proceeds, according to company filings with the Securities and Exchange Commission.
On Monday, chief executive officer Chuck Cohn said in a press release that the listing represents an "important milestone" for the company.
"We're just getting started and have an exceptional team in place to drive the next chapters of growth for our organisation," he said.
Greg Mrva, president of TPG Pace, said the merger made sense, given Nerdy's track record and technological prowess.
"Nerdy has delivered on growth in 2021 through core 1:1 and multi-format instruction and has recently added a direct to school initiative that provides a new driver of growth into 2022," Mrva said.
About Nerdy
Nerdy uses Artificial Intelligence to create personalised lesson plans for its students. According to the company's website, its flagship product "Varsity Tutors" maximises student engagement and success by matching students with earning experts who are available for help at a moment's notice.
Read more: Online educator Nerdy to go public in SPAC deal