Shares of iBio slump on earnings outlook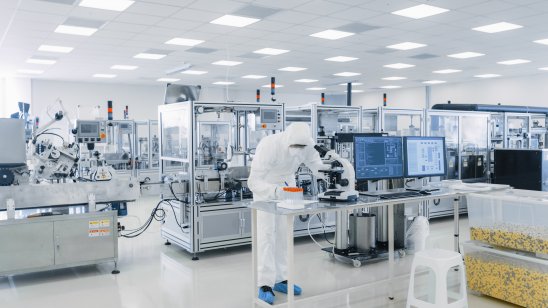 Shares in plant-based biologics manufacturer iBio slid by 0.8% by midday on Monday after the company released its fiscal Q4 earnings.
In Q4, the company brought in more than $500,000 (£364,902.50) in revenue, raising its full-year total to more than $2.4m, a 50% increase from FY 2020. However, the $500,000 total is more than 50% below what the company earned in Q4 2020, according to the earnings statement.
The company said in a statement that this kind of volatility is "commonplace for early-stage pharma services companies" because of the number of contracts iBio holds and how revenues are reported.
Shares of the company reached $1.16 a share in midday trade in New York.
Strategy for investment
Even with the fluctuating earnings, iBio showed promising signs in Q4, according to its earnings statement.
Overall, the company was able to grow its staff to 87 employees and established a new drug discovery team in San Diego, California. This is one reason why the company say its research and development and administrative costs grew to $32m during Q4.
Growth in these areas represents "the strategy to invest in iBio's proprietary biopharmaceutical pipeline and platform technology," the company said in the earnings statement.
iBio was also able to strengthen its board of directors by appointing Evert Schimmelpennink and William Clark, both of whom have extensive experience immune-oncology and biopharmaceutical businesses.
Yet despite these gains, the company still reported a net loss of more than $23m for FY 2021. The company added that this loss would have been greater if iBio had not settled a lawsuit with Fraunhofer USA, Inc. to resolve claims relating to iBio's FastPharming system. iBio netted a $1.8m fee from the settlement.
Outlook shift expected
The Q4 earnings led iBio to conclude that there may be a "sequential decline in revenue during the first half of fiscal 2022 compared to the second half of fiscal 2021," according to the earnings.
However, the company doesn't expect the lowered outlook to last as it expects revenues to grow in H2 2022.
"Fiscal 2021 was a transformative period for iBio, highlighted by our entry into oncology and continued progress as a next-gen Covid-19 vaccine developer," Tom Isett, CEO of iBio, said in a statement.
"iBio is now well positioned to capture discovery and development synergies across these proprietary platforms, enabling us to further build our pipeline of differentiated, next-gen oncology therapeutics," he continued.
About iBio
iBio is a pioneer of plant-based biologics manufacturing. The company has two lines through which its customers are provided service; the FastPharming System and its Glycaneering Development Service.
The Bryan, Texas-based company uses the FastPharming system to develop proprietary biopharmaceuticals while the Glycaneering service helps the company design inoculations with recombinant proteins.
According to research from Transparency Market Research, the global plant-based vaccine market is expected to grow to a value of $2.3bn by 2031 at a compound annual growth rate of 7.38%.
Read more: iBio stock forecast 2021: is this former Covid darling heading to penny territory again?