Shares of Herbalife fall on lowered guidance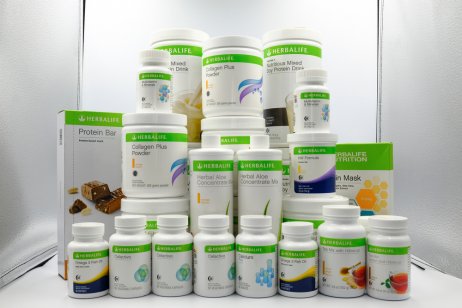 Shares of Herbalife Nutrition tumbled Monday after the nutritional products manufacturer lowered its financial expectations for the third quarter and full year.
The Los Angeles, California-based company reduced its Q3 2021 expectations because of "lower than expected levels of activity amongst its independent distributors," the company said.
Herbalife expects third quarter net sales to come in between 6.5%-3.5% lower than the same quarter last year. The company previously saw net sales decreasing between minus 1% to positive 5%.
Adjusted EBIDTA guidance was lowered to $200-$220m for the quarter, versus $205-$235m previously forecast. For the full year, Herbalife expects adjusted EBITDA of $860m-$910m, down from $875m-$935m.
Per share earnings to pay out
Similarly, the company expects to pay out between $4.50 and $4.95 in per-share earnings this year. This would be a $0.15 per share decrease year-over-year.
However, these expectations are far lower than Wall Street's, which expects the company to earn more than $5.10 per share in 2021.
Shares fell 20%, reaching an intraday low of $43.27 per share.
Guidance concerns
Investors see plenty to be concerned about in the company's financial outlook statement.
Nevertheless the company said it anticipates third quarter net sales growth between 14%-18% versus the same quarter two years ago. Full year growth is expected to be 19%-23% versus full year 2019.
Part of the reason for this estimate is that its number of sales channels is up 10% year-over-year.
"We are on track for another record sales year with a sustained growth trajectory and significant cash generation, positioning us to continue to benefit from the fundamental tailwinds driving the nutrition industry globally and the strong demand for our science-based products, as consumers continue to appreciate the value of good nutrition," John Agwunobi, Herbalife's CEO said.
"Yet, uncertainty in global markets, fuelled by the extended period of the pandemic, has brought about unique challenges in predicting behaviour in the channel," he continued.
What's next?
Herbalife is a global marketing company that sells dietary supplements in 90 countries. The company tries to inspire its customers to lead a healthier lifestyle, according to its website.
Even with the uncertainty Herbalife is facing, the company still plans to repurchase up to $200m of its shares in the third and fourth quarters.
Read more: Q3 earnings reports - how did Apple, Paramount, CBS, Pfizer and other giants perform?