Shares in Smiths Group rise on upbeat full-year results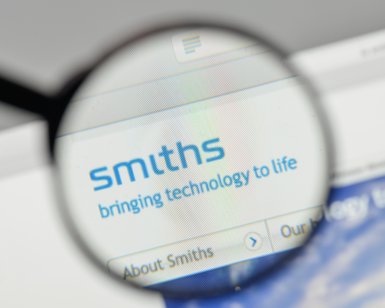 Shares in Smiths Group jumped today after the UK industrial technology company revealed group revenue growth was expected to return to pre-Covid levels this year.
The company said it was well-positioned with good order book momentum – despite economic uncertainty and supply chain challenges.
Smiths also announced it had entered into a binding share purchase agreement in relation to the sale of Smiths Medical to ICU Medical for $2.4bn (£1.76bn).
The Board proposes to return 55% of the initial net cash proceeds of the sale – equivalent to £737m – to investors via a share buyback.
Final dividend
The FTSE 100 conglomerate reported underlying revenue down 2% to £2.4bn for the year ending 31 July 2021, with operating profit increasing 7% to £372m.
It also proposed a final dividend of 26p for the full year, representing an increase of 8% over last year's 35p per share payout.
Today's news was enough to lift the company's share price up 3% to £14.05 in early trading on the London markets.
Robust performance
Paul Keel, group CEO, said it was an exciting time for the company, which had "high quality businesses with strong fundamentals".
He also insisted it was well-positioned in markets with near-term upside and attractive long-term growth drivers.
"We are building good momentum and are positioned for growth in our core industrial technology business," he said. "Smiths is pointed in the right direction and our focus now is squarely on acceleration – acceleration of delivery, acceleration of growth, and acceleration of value creation."
Read more: Smiths Group sells medical division in .3bn deal