Shares in RHI Magnesita rise after it reveals acquisition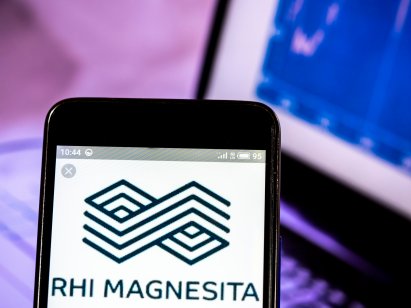 Shares in refractory products supplier RHI Magnesita rose today after it revealed plans to buy a Turkish company for €38.8m ($45m). In a third quarter trading update, it announced it was taking an 85.22% stake in SÖRMAŞ, which provides refractories for cement, steel, glass and other industries.
The FTSE 250 company also reported strong demand – but a challenging supply chain position for the three months to the end of September.
Growth plans
The news was viewed positively by the stock market, with the company's shares up almost 7% by late morning in London.
According to RHI Magnesita's statement, the SÖRMAŞ acquisition will "significantly expand the group's locally manufactured portfolio", while serving as a production hub and platform for growth.
"With an enlarged product portfolio, further potential exists from the opportunity to deliver full-line service solutions to customers in Turkey," it stated.
SÖRMAŞ recorded underlying EBITDA of €6.4m last year, with gross assets of €27.7m and net cash of €3.7m as of 31 December 2020.
What is your sentiment on RHIM?
Vote to see Traders sentiment!
Mixed experiences
The acquisition came as RHI Magnesita reported demand continued to be strong for both its steel and industrial businesses.
The company said its raw material assets and refractory plants were operating at high capacity, with the order book visibility extending into the first quarter of 2022.
However, while it saw improved earnings momentum in September, benefiting from higher prices, profitability was impacted by further cost increases.
Supply chain challenges
Additionally, sales volumes for high margin refractories mainly for use in non-ferrous metals projects were impacted by lower output from the group's Radenthein plant in Austria.
This was caused by the temporary closure of one tunnel kiln for unscheduled maintenance during the quarter, which will adversely impact second half of 2021 EBITDA (earnings before interest taxes and amortization) by around €8m.
Meanwhile, the supply chain position remains "challenging in all territories" with increases in the cost of sea freight and demurrage, together with rising energy and consumables expenses.
"Supply chain delays caused by low freight reliability impacted production schedules and deliveries and there was continued use of air freight when necessary to ensure customer supply," it stated.
Price increases
In response to higher costs, the company has implemented significant customer price increases, with a forecast revenue benefit from agreed increases of €100m so far in 2021.
"Further price increases are being negotiated, with a potential additional revenue benefit of up to €30 million in 2021," it said in the statement.
RHI Magnesita CEO Stefan Borgas said the company was focused on delivering for its customers during the supply chain disruption and said they understood prices need to rise.
"We have taken action to mitigate these additional costs and our medium-term prospects are well supported by our structural cost reduction programme and investments in technology, solutions, recycling and growth in new markets."
Read more: RHI Magnesita shares fall on RBC Capital downgrade