Shares in Card Factory fall on £6.5m half-year loss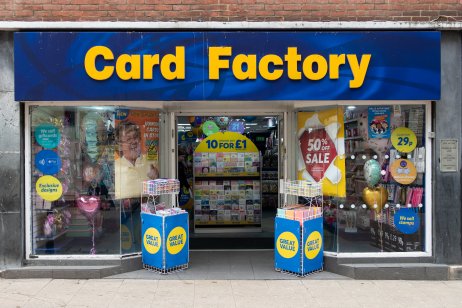 Shares in Card Factory fell sharply today after the retailer revealed a strong first-half performance wasn't enough to stop it sliding into the red.
The greetings card specialist reported revenue was up 16.3% to £116.9m for the six months ending 31 July 2021, as the country emerged from the Covid lockdowns.
But it still suffered a pre-tax loss of £6.5m for the six months – albeit a significant improvement on the £22.2m loss endured in the first half of 2020.
This was enough for the share price to fall 3.7% to 57.8p by late morning on the London markets.
Better than expected
In its half-year statement, the company said the better-than-expected performance had been driven by improvements across all areas of the business.
"Online is trading in-line with our expectations and in-store footfall and transaction volumes continue to recover, albeit transaction volumes remain 21.9% below pre-pandemic levels," it stated.
Average basket value remains higher than pre-pandemic levels, with basket mix reflecting the company's broader product offering, offsetting lower footfall.
Christmas trading
Card Factory remains "cautiously positive" about the second half of full-year 2022, despite the supply chain disruption, staff shortages, and an increase in both freight and energy costs.
"We have worked extensively to make sure we are as well prepared as possible for the forthcoming Christmas period to minimise the potential disruption from driver and labour shortages," it said.
Over the longer term, the retailer believes its refreshed strategy will deliver sustainable growth, resulting in revenues of more than £600m by 2026.
Resilience of the card market
Darcy Willson-Rymer, who was appointed CEO in March this year, is optimistic about the future despite uncertainty surrounding the speed of the post-pandemic recovery.
"I firmly believe in both the resilience of the card and gifting markets and the fact that the majority of customer spend will remain in stores for the years to come," she said.
While cards will remain the largest part of the business in terms of total contribution, the company will also increase its focus on 'complementary gifting' and party markets.
"It is clear that the right way forward is to transition Card Factory from being a store led card retailer into a market-leading, omnichannel retailer of cards and gifts," Willson-Rymer added.
Read more: Card Factory reveals annual pre-tax loss