Setbacks for US dollar as Turkish lira rides a roller coaster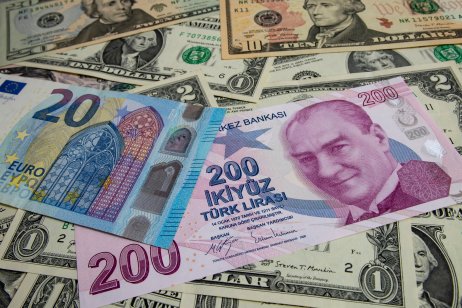 The dollar softened against other major currencies on Tuesday morning trading in Europe, following yesterday's risk-off session marked by growing fears over Omicron and uncertainty over the future of President Biden's spending plans.
The DXY index, which measures the US dollar against a basket of six major currencies, was broadly flat at 96.35 (-0.2% on the day) by 11:00 GMT (UT).
The Turkish lira emerged from the ashes of a currency crisis, with USD/TRY down by nearly 30% compared to yesterday, after President Recep Tayyip Erdoğan presented a new plan to defend local currency deposits against depreciation. President Erdoğan also announced a 10% reduction in withholding tax on dividend payments made by companies.
Risk sentiment improved towards high-beta and commodity currencies after yesterday's sell-off. The Australian (AUD) and New Zealand (NZD) dollars strengthened against the USD, and the Norwegian krone (NOK) also rebounded.
What is your sentiment on USD/ZAR?
Vote to see Traders sentiment!
Forex Daily Matrix – 21 December 2021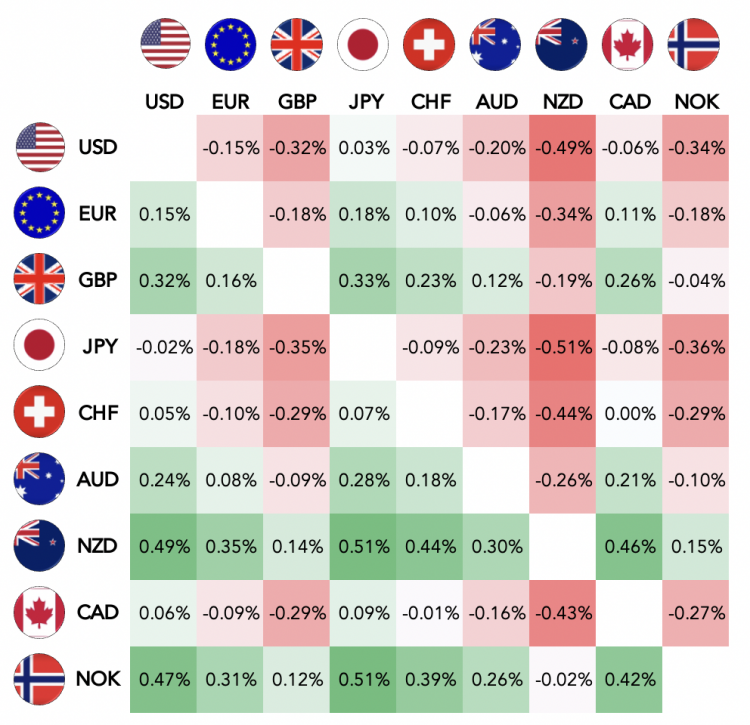 Forex Daily Matrix as of 21 December 2021, 11:00 GMT – Credit: Capital.com
US Dollar
At time of writing, the US Dollar Index (DXY) was at 96.38, up 0.5% on the day.
The dollar took a breather after Democratic Senator Joe Manchin of West Virginia announced his withdrawal from President Biden's Build Back Better Act on Sunday, effectively undermining the $1.75trn tax and spending proposal that incorporates the Democrats' core domestic policy priorities.
Goldman Sachs analysts cut their growth predictions for the United States for 2022 yesterday, citing a more negative fiscal impact than projected. The bank's experts now estimate GDP growth of 2% in the first quarter of 2022, a 3% increase in the second quarter and a 2.75% rise in the third – down from 3%, 3.5% and 3% growth, respectively.
The Omicron variant continues to spread rapidly in the US, now accounting for 73% of all sequenced Covid-19 cases, up from around 3% last week. President Biden will talk later today about the country's pandemic response in light of the escalating number of Omicron cases.
US dollar (DXY) technical levels:
52-week high: 96.82
52-week low: 89.22
50-day moving average (one-day chart): 95.16
200-day moving average (one-day chart): 92.80
14-day Relative Strength Index (RSI) (one-day chart): 56
Chart of the day: Turkish lira on a rollercoaster ride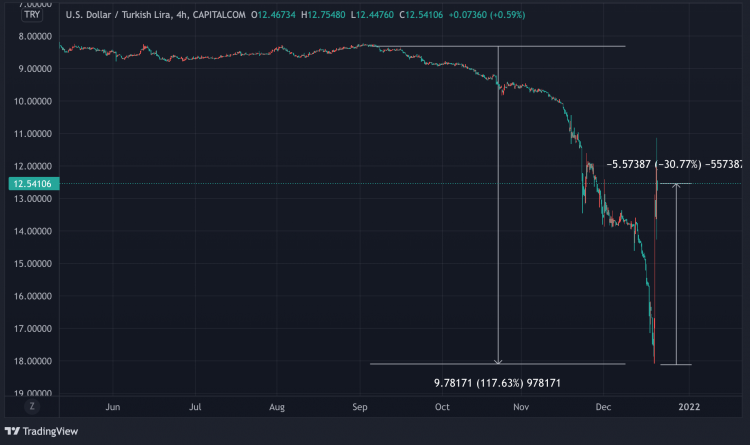 USD/TRY (inverted) chart – Credit: Tradingview
British pound
By 11:00 GMT today, the cable (GBP/USD) was trading at 1.1294, up 0.4% on the day, while EUR/GBP was 0.2% lower at 0.8519.
Although the Bank of England surprised markets last week by tightening monetary policy, the pound was pulled down by global risk aversion as a result of the spread of Omicron and domestic political headlines.
Prime Minister Boris Johnson is embroiled in a battle with his own cabinet about enforcing new coronavirus restrictions as Christmas approaches, while yesterday health secretary Sajid Javid refused to rule out further meaures being implemented before Christmas.
GBP/USD technical levels:
52-week high: 1.4248
52-week low: 1.3133
50-day moving average (one-day chart): 1.3464
200-day moving average (one-day chart): 1.3757
14-day Relative Strength Index (RSI) (one-day chart): 44
Euro
EUR/USD was last at 1.1262, down 0.4% on the day.
The economic outlook in the eurozone remain clouded by recent pandemic developments. Consumer confidence in Germany, according to the GfK survey, fell more than expected to -6.8 points (the lowest since June), down from -1.8 previously.
This afternoon, the EU Commission will publish preliminary data on household morale in the euro area for December, which are likely to indicate a similar decline in response to the spike in infections and the consequences of energy price hikes.
The Bundesbank indicated that the German economy may fall this quarter as a result of the increase in Covid-19 infections. The Netherlands has already implemented a Christmas lockdown, and EU Commissioner Ursula von der Leyen has warned that by mid-January, the Omicron strain might be dominant in Europe.
EUR/USD technical levels:
52-week high: 1.2349
52-week low: 1.1184
50-day moving average (one-day chart): 1.1425
200-day moving average (one-day chart): 1.1774
14-day Relative Strength Index (RSI) (one-day chart): 46
Forex Performance Heatmap – 21 December 2021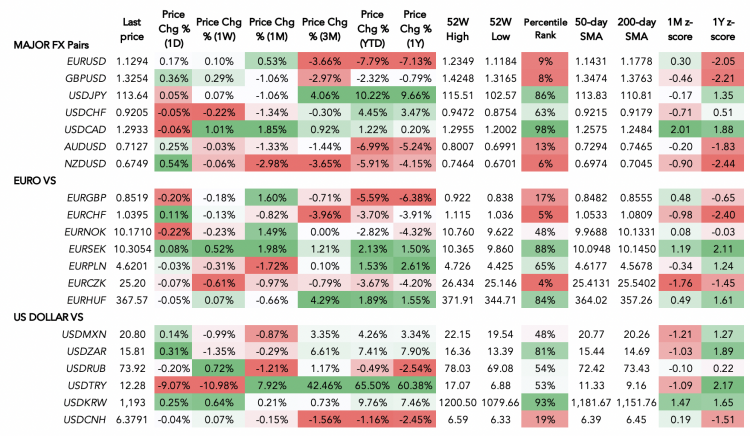 Forex Performance Heatmap as of 21 December 2021, 11:00 GMT – Credit: Capital.com
Other currency pairs (% change from previous close):
Read more: Turkish lira slumps to a new low after interest rate cut