Semiconductor shortages to hurt auto industry till mid-2022
Subscribe to Weekly Highlights
The major market events for the week ahead right in your inbox.
Subscribe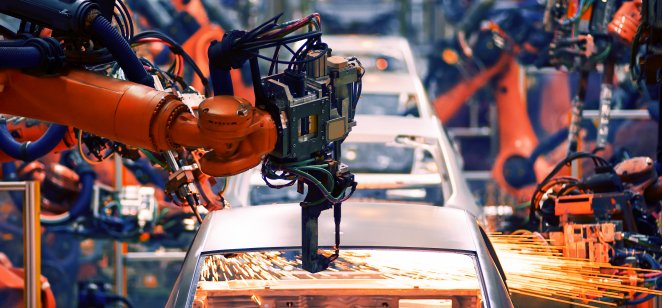 Content
Electric vehicle (EV) sales are on the up but producers may soon face problems keeping up with demand as shortage in the key semiconductor components hits production levels.
Household brands like Berlin-based BMW, Tokyo-headquartered Honda, South Korean sister firms Hyundai and Kia, and China's Geely have recently talked about the risks posed by the global semiconductor chip shortage.
Semiconductor supplies have been hit by COVID-19 factory closures reducing supply while lockdown consumers are buying more electronic goods - particularly EVs - increasing demand for semiconductors.
Disruptions to stay in 2022
Financial data firm IHS Markit on Thursday estimated that output lost to semiconductor supply chain disruption could reach up to 7.1 million units globally in 2021.
Mark Fulthorpe, executive director at IHS Markit, said these disruptions will spill over into 2022 with recovery efforts only starting from second half of next year.
German chipmaker Infineon, who derived 43% its June quarter revenue from automobile clients, also had a say warning recovery in the automotive industry was being held back by "acute supply limitations across the entire value chain," according to Reuters.
What is your sentiment on F?
Vote to see Traders sentiment!
Issues at assembly and test operations
Earlier in the pandemic, semiconductor supply chain issues were linked to producing the chips themselves. Now the assembly and test part of the process is feeling the strain.
Once semiconductor wafers are processed they are sent to assembly and test locations to be diced, packaged and tested before shipping the product to automobile clients to be placed into an engine control unit and then into a car.
"Wafer fab (semiconductor wafer production) capacity got all the attention early this year, and rightly so, but if you can't put the die into a package so it can be put into an ECU, then you still can't produce and sell a car," said Phil Amsrud, senior principal analyst at IHS Markit.
| | |
| --- | --- |
| Long position overnight fee | -0.0308% |
| Short position overnight fee | -0.0137% |
| Overnight fee time | 22:00 (UTC) |
| Spread | 0.16 |
| | |
| --- | --- |
| Long position overnight fee | -0.0308% |
| Short position overnight fee | -0.0137% |
| Overnight fee time | 22:00 (UTC) |
| Spread | 0.23 |
| | |
| --- | --- |
| Long position overnight fee | -0.0064% |
| Short position overnight fee | -0.0059% |
| Overnight fee time | 22:00 (UTC) |
| Spread | 0.13 |
| | |
| --- | --- |
| Long position overnight fee | -0.0308% |
| Short position overnight fee | -0.0137% |
| Overnight fee time | 22:00 (UTC) |
| Spread | 0.19 |
Labour-intensive
Semiconductor assembly and test operations are more labour-intensive than wafer fabrication processes. Therefore these processes are easily hampered by social distancing restrictions and lockdown measures at assembly and test locations concentrated in China, South Korea, Japan, Singapore, Philippines, Indonesia, Thailand, Vietnam and Malaysia.
"This threatens the operators at the assembly and test locations themselves as well as the workers necessary to move the finished products to distribution hubs for global distribution," IHS Markit said.
Moreover, margins in assembly and test operations are a fraction of those compared to wafer fabrication, so there is a hesitation to add capacity speculatively, IHS Markit added. Furthermore, a shortage of assembly equipment has resulted in some lead times increasing to 40 weeks.
Japan's auto-index slumps over 4% on Friday
Automobile manufacturers and chipmakers around the world have flagged risks related to the ongoing semiconductor shortage.
On Friday, Japan's automobile index slumped over 4% after Toyota Motor announced that it was slashing its global production target for September by 40%. Nikkei Asia reported that the total number of cars produced would fall from 900,000 to 500,000 due to parts shortage from the recent upswing of COVID-19 in Southeast Asia.
Earlier in August, Suzuki Motor cut its full-year profit guidance by nearly 13% over fears the ongoing semiconductor shortage will continue to impact plant operations until the end of the year.
The numbers are starting to add-up. IHS Markit's estimate of 7.1 million units lost globally to semiconductor supply chain issues "do not include the latest announcement by Toyota and any others that have followed since the beginning of this week".
Geely Automobile Holdings Limited - 0175 CFD
Read more : Geely Automobile positive on outlook despite chip shortages