Safe havens rally on new variant, ZAR sinks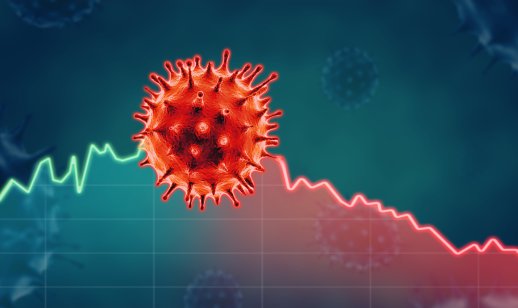 Risk-off sentiment prevails in the forex market on Friday, following the discovery of a new variant (B.1.1.529) of COVID-19 in Africa that looks to be quickly mutating.
Safe-haven currencies such as Japanese yen (JPY) and Swiss franc (CHF) rally across the board, while risk-sensitive and oil-linked currencies suffer the biggest losses.
The US dollar took a breather, with the DXY falling 0.3% to 96.38 by 09:30 GMT, as US Treasury yields retraced substantially overnight. The yield on the 10-year Treasury decreased by 11 basis point to 1.52%.
The British pound was little moved against the dollar (-0.12%), but fell 1.1% and 0.9% against JPY and CHF, respectively.
The Canadian dollar (CAD) and the Norwegian krone (NOK) were among the worst performers among majors, down almost 1% against the greenback and 2% versus safe havens, as oil prices plunged overnight amid fears of a worsening on the demand outlook due to spread of the new variant.
Aussie (AUD) was down 0.8% while the New Zealand dollar (NZD) fell 0.6% amid worries that the new variant could slowdown the global economic recovery.
The South African rand (ZAR) suffered a significant sell-off, falling overnight as much as 4% against safe haven currencies (JPY & CHF) on the announcement of the new variant's discovery. Other emerging market currencies also reacted negatively amid the broad risk-off mood, with the Mexican peso (MXN) falling 1.9% and the Russian ruble (RUB) down 1.3% on the day.
What is your sentiment on USD/MXN?
Vote to see Traders sentiment!
Forex Daily Matrix – 26 November 2021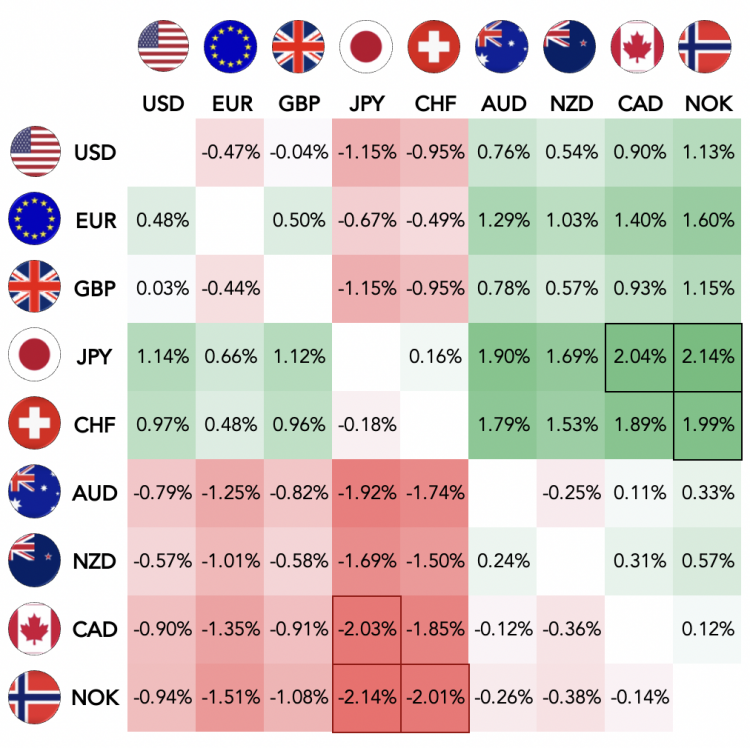 Forex Daily Matrix as of 26 November 2021, 09:30 GMT – Credit: Capital.com
US dollar
The US Dollar Index (DXY) was last at 96.38, down 0.3% on the day.
This week, the re-appointment of Jerome Powell, the release of US inflation statistics reaching 30-year highs, and the release of recent Federal Reserve minutes have all heightened market expectations of faster monetary policy normalisation in 2022, fuelling the dollar's rally. Investors brought expectations on the Federal Reserve's first interest rate hike next year. Money markets seem to suggest that a rate hike as early as May next year is more likely (53%) than not (47%), compared to a 29% probability just a week ago.
However, if the new COVID-19 variant proves to be as contagious as the Delta one and also resistant to vaccines, investors' expectations about interest rate hikes in 2022 could take a step back in the coming weeks.
US dollar (DXY) technical levels:
52-week high: 96.52
52-week low: 89.212
50-day moving average (1-day chart): 94.36
200-day moving average (1-day chart): 92.38
14-day Relative Strength Index (RSI) (1-day chart): 67.28
Chart of the day: ZAR sunk by more than 4% against safe-haven CHF & JPY after variant discovery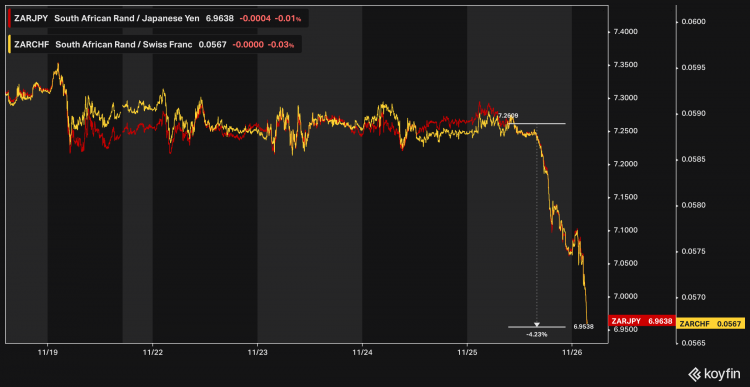 ZAR/JPY and ZAR/CHF intraday performance after variant discovery – Credit: Koyfin
Euro
The euro was last at 1.1258 against the US dollar, up 0.4% on the day.
The single currency has been declining more than 2.5% over the past month as a result of rising ECB-Fed policy divergence and fears of new lockdowns in Europe.
Yesterday's ECB meeting minutes revealed that the Governing Council is quite optimistic that the impact of increasing energy costs and supply constraints will be transitory, while the decrease in inflation in 2022 will take longer than originally anticipated.
Meanwhile, Germany recorded a new record of almost 76,000 COVID-19 infections in a single day, with hospitals mostly in the country's south and east reporting that their intensive care units are getting close to full capacity.
EUR/USD technical levels:
52-week high: 1.2349
52-week low: 1.1184
50-day moving average (1-day chart): 1.1548
200-day moving average (1-day chart): 1.1840
14-day Relative Strength Index (RSI) (1-day chart): 34.26
British pound
Cable (GBP/USD) was last at 1.3314 at 09:48 GMT, unchanged on the day.
This morning, UK officials quickly barred travel from South Africa and parts of its neighbours, requiring a 10-day quarantine for visitors returning to the UK.
Andrew Bailey, Governor of the Bank of England (BoE), said on Thursday that leading the markets on interest rates is a challenging job. BoE Chief Economist Huw Pill will speak about the economic outlook today.
GBP/USD technical levels:
52-week high: 1.4248
52-week low: 1.3133
50-day moving average (1-day chart): 1.3593
200-day moving average (1-day chart): 1.3822
14-day Relative Strength Index (RSI) (1-day chart): 32.85
Forex Performance Heatmap – 26 November 2021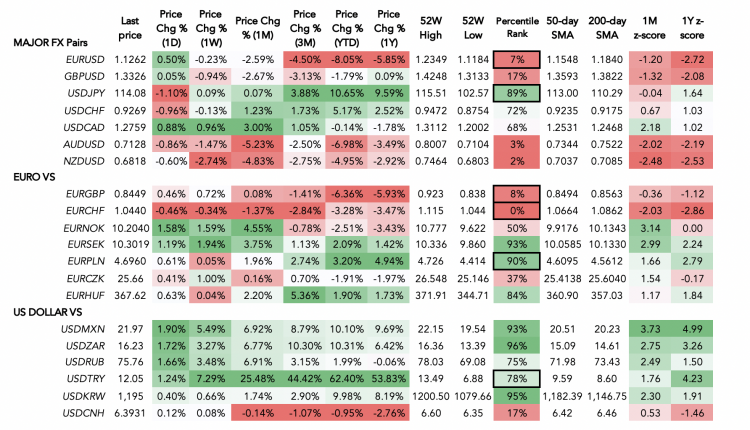 Forex Performance Heatmap as of 26 November 2021, 09:30 GMT – Credit: Capital.com
Other currency pairs (% change from previous close):