Market close: S&P extends winning streak, earnings reports soar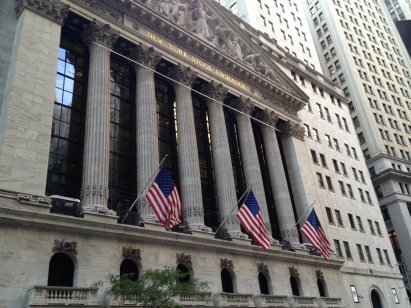 The S&P 500 logged its fifth positive session in a row amid a string of solid earnings reports.
The S&P 500 improved 0.7% to 4,519.63, rising for a fifth straight day, while the Dow Jones Industrial Average gained 198.70 points, or 0.6% to end at 35,457.31, and the Nasdaq Composite jumped 0.7% to close the day at 15,129.09.
The Dow and the S&P 500 now sit less than 1% from their respective all-time highs.
Third-quarter earnings season is underway
On Tuesday, Netflix, United Airlines and Procter & Gamble released their earnings reports. Later this week, Tesla, Verizon and IBM are also expected to report.
What is your sentiment on TSLA?
Vote to see Traders sentiment!
Tuesday's winners and losers
Shares for Procter & Gamble dipped almost 1.2% despite the company's better-than-expected earnings results.
By the end of trading, shares for Walmart jumped 2.1% after Goldman Sachs said the retailer's stock could rally 40%.
Shares for Johnson & Johnson improved 2.3%, down from 3% at mid-day, after the company reported third-quarter results showing earnings per share beat analyst estimates by 25 cents per share.
Ahead of their earnings reports on Wednesday, shares for United Airlines rallied from their intraday low to 1.69% higher, while shares for Tesla jumped 0.2% on Tuesday ahead of the EV-maker's earnings report slated for tomorrow.
In assets, the yield on the benchmark 10-year US Treasury note ticked up to 1.634% Tuesday from 1.583% Monday.
Global markets
The pan-continental Stoxx Europe 600 rose 0.3%, while in Asia, China's Shanghai Composite gained 0.7%, and Hong Kong's Hang Seng climbed 1.5%.
South Korea's Kospi and Japan's Nikkei 225 each added about 0.7%.
Read more: KKR pays over Read more: KKR pays over $1bn for music royalty rightsbn for music royalty rights