RLX Technology IPO: is the Chinese vape manufacturer a buy?
Subscribe to Weekly Highlights
The major market events for the week ahead right in your inbox.
Subscribe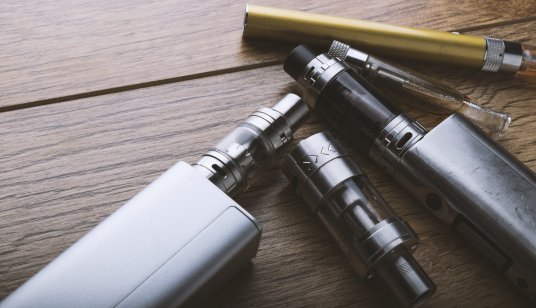 Content
The latest in a string of high-profile Chinese stock listings on US exchanges is the RLX Technology Inc. initial public offering (IPO). The company is an e-cigarette maker based in Beijing and has filed an IPO valued at more than $1bn, to list on the New York Stock Exchange (NYSE) under the ticker symbol RLX.
Chinese companies have increasingly turned to the US markets to raise funds in recent years. Chinese IPOs totalled almost $15bn in value on US exchanges in 2020 – the second-highest figure on record according to data compiled by Bloomberg.
At the same time, RLX Technology is going public at a time of heightened tensions between China and the US, with the NYSE delisting three Chinese telecom companies citing links to the Chinese military. It had also considered removing technology firms such as Alibaba (BABA), but opted to allow them to remain given their size and economic impact.
What do investors need to know about the RLX technology Inc. (RLX) IPO? Is the company a good investment in 2021? And should you be among the first to buy RLX shares once the stock goes live?
Capital.com has prepared an overview of all the details you need to know to help you better navigate the market and make an informed investment decision.
RLX dominates Chinese vaping market
Founded in January 2018 by Ying (Kate) Wang, former head of Uber China, RLX is the leading Chinese branded vape supplier. The company had a 62.6 per cent market share by retail sales value in the nine months ended September 30, 2020, according to its SEC filing.
The company has launched five series of closed-system rechargeable e-vapour products with various value-added features under its RELX brand. RLX primarily sells its products to offline distributors, which supply its products to retail outlets across China.
The company said in its F-1 form: "We have pioneered an integrated offline distribution and 'branded store plus' retail model tailored to China's e-vapour market."
"Under this model, we identify and leverage a variety of distribution and retail channels that allow our products to reach adult smokers in a more effective manner. As of September 30, 2020, we partnered with 110 authorised distributors to supply our products to over 5,000 RELX Branded Partner Stores and over 100,000 other retail outlets nationwide, covering over 250 cities in China."
RLX currently only sells its e-vapour products in China. However, the size of that market is substantial. According to a report by research firm China Insights Consultancy (CIC), the Chinese vaping market boasted a retail sales value of $1.5bn in 2019, and is expected to reach $11.3bn in 2023, representing a compound annual growth rate (CAGR) of 65.9 per cent. There were approximately 286.7 million adult users of combustible tobacco products in China in 2019, making China the world's largest potential market for e-vapour products.
RLX's revenues soared from 132.6 million yuan (RMB) in 2018 to RMB 1.55 billion in 2019. Revenues increased from RMB 1.14 billion in the nine months ended September 30, 2019, to RMB 2.2 billion in the nine months ended September 30, 2020.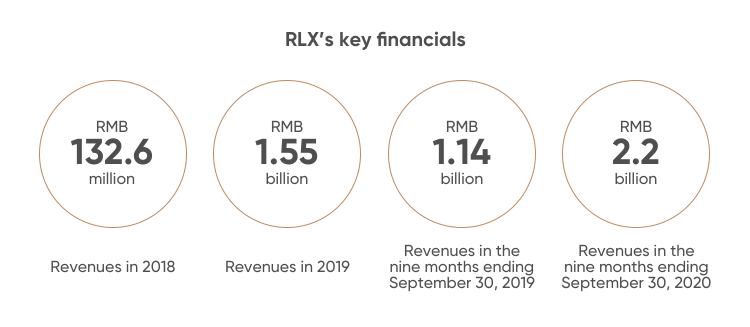 The company reported a net loss of RMB 287,000 in 2018 but became profitable in 2019, generating a net income of RMB 47.7 million in 2019. In the first nine months of 2020, net income grew to RMB 108.6 million.
The company notes that the e-cigarette market faces fundamental risks, as "if it is determined or perceived that the usage of e-vapour products poses long-term health risks, the use of e-vapour products may decline significantly, which may materially and adversely affect our business, financial condition and results of operations."
It adds that "we operate in an emerging and evolving market in China, which may develop more slowly or differently than we expect."
What is your sentiment on EA?
Vote to see Traders sentiment!
RLX Technology IPO: everything investors need to know about the event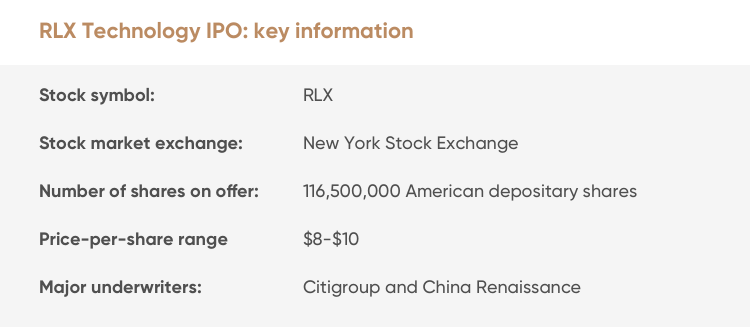 RLX submitted its IPO filing on December 31. The RLX technology IPO date will be on January 21, as the company is scheduled to price the offering after the market closes on January 20. According to an update to the IPO prospectus filed with the SEC on January 15, RLX expects to price its American Depositary Shares (ADSs) between $8-10, with each ADS representing one Class A ordinary share.
RLX plans to offer 116,500,000 ADSs (or 133,975,000 ADSs if the underwriters exercise their over-allotment option in full). That would give the IPO a minimum valuation of $932m. The company estimates that it will receive net proceeds of approximately $1.007bn, or approximately $1.159bn if the underwriters exercise their over-allotment option in full, after deducting underwriting discounts and commissions and the estimated offering expenses. The estimate is based upon an assumed offering price of $9 per ADS, the midpoint of the price range.
The company plans to use the net proceeds of the offering as follows: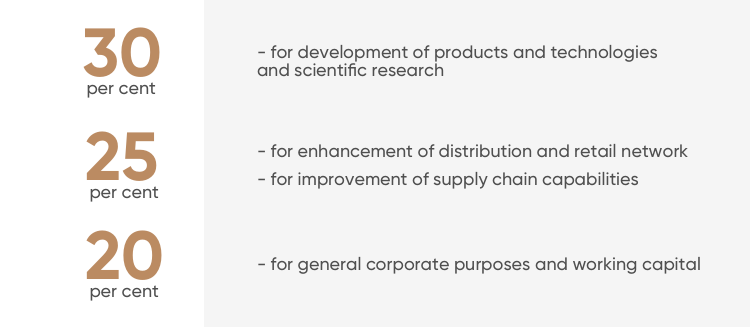 How to trade RLX stock once the IPO happens
Are you interested in trading RLX stock as soon as it is listed on the market?
Once RLX shares go live on the NYSE, they will become available for trading through contracts for difference (CFDs) on Capital.com. CFDs allow investors to speculate on the stock's value without the need to own the asset itself.
CFD trading gives you the opportunity to profit from both positive and negative fluctuations: you can either hold a long position, speculating that the RLX share price will rise, or a short position, speculating that the price will fall.
Another advantage of trading shares in RLX stock with CFDs is leverage. Trading with leverage means that you can open significantly larger positions with a smaller amount of initial capital. However, while leverage provides the opportunity for big profits, it can also result in bigger losses.
Create a trading account at Capital.com right now and be one of the first to trade RLX shares as soon as the company goes public.
Read more: Platinum price forecast: positive backdrop signals further upside ahead