Rivian (RIVN), Lucid (LCID) shares fall as investors cash in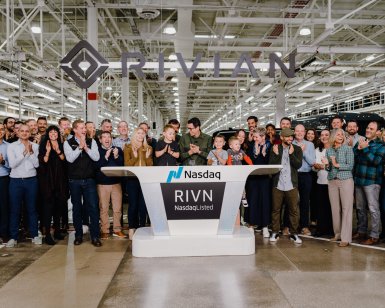 Rivian shares fell by 15% for the second day in a row as investors cashed in after the electric truck maker's shares surged in the hottest initial public offering of the year.
Since going public last week, Rivian shares surged as high as $179, which is well above its initial public offering at $78. Some even wondered whether the shares could reach $200.
But that price is starting to return to reality with the stock trading just above $123 per share on Thursday – more than 31% off its highs. Optimism is high for the electric truck maker, but the company still has a lot to prove, even if Rivian's valuation has already surpassed legacy US automakers Ford Motor and General Motors.
Lucid Motors
Like Rivian, rival luxury electric car maker Lucid Group has seen its shares slide by more than 10% on Thursday adding to a 5% decline in the share price the day before.
Lucid is still up 90% over the last month, but some of those gains are starting to reverse this week as investors take profits after the hype around the electric vehicle sector in recent trading sessions.
Lucid traded as high as $64 per share earlier this week but has fallen more than 27% off those highs to trade at around $47 per share.
Read more: Lucid (LCID) capitalisation gains 22%, surpassing Ford