Porsche IPO: Could the German sportscar maker close the gap on Ferrari?
Subscribe to Weekly Highlights
The major market events for the week ahead right in your inbox.
Subscribe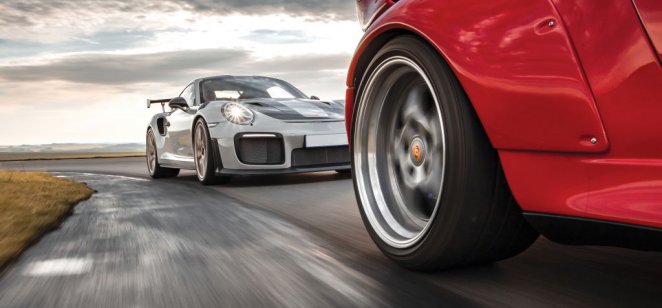 Content
Less than 24 hours stand between Volkswagen (VOW3) and its spins-off its luxury car division, Porsche, which was valued at €75bn ($75.2bn) when it first listed on the Frankfurt stock exchange on 29 September, making it one of Europe's largest stock market floats on record, according to data from Refinitiv.
"Sporting an EBITDA margin of 24.5%, this is high for the industry but still trailing its Italian rival Ferrari (RACEm) and here also lies the potential for future shareholders of Porsche, namely closing the valuation and operational gap to Ferrari," Saxo Bank's Head of Equity Strategy, Peter Garnry wrote in a note.
Porsche is a strong car company with revenue up 8% in the first half of 2022, so could it out race Ferrari (RACEm)?
Volkswagen (VOW3) share price chart
To really answer this question, it's good to understand the ownership structure of Porsche, as well as the fundamentals of both Ferrari (RACEm) and Porsche and the risks.
What is your sentiment on VOW3?
Vote to see Traders sentiment!
Maze-like structure
Not all luxury car makers have done well on the stock market. Aston Martin (AML) is facing bankruptcy, but Ferrari (RACEm) has had great success.
Garnry points out that what makes the Porsche IPO an interesting one is its maze-like ownership structure with VW (VOW3) owning the Porsche brand and car manufacturing but itself being owned by the Austrian Porsche-Piech family.
"The story of why we have ended up in this weird ownership structure started with the privatization of Volkswagen (VOW3) in 1960 in which laws were enacted that stated that any shareholder with more than 20% ownership would have veto over any resolution," Garnry said.
"The German government kept 20.1% and thus control over Volkswagen (VOW3). In 2005, Porsche SE (the holding company of the Porsche family) began accumulating a stake in Volkswagen (VOW3) and by 2006 it controlled 25.1%. In October 2008, Porsche SE announced that it had acquired 42.6% with options for another 31.5% as it wanted to go to 75% in order to consolidate Volkswagen's cash position on its balance sheet."
According to Garnry, with the government still owning 20.1% short sellers scrambled to cover their shorts and Volkswagen's stock price briefly went above €1,000 making it the most valuable company in the world.
"In the end Porsche SE ended up controlling 53.3% as of the latest shareholder figures. In 2011, Porsche and Volkswagen (VOW3) merged, and Porsche AG was designated as a subsidiary of Volkswagen AG." Garnry added.
The fundamentals
Garnry stresses that Porsche is a well-run organisation that has generated over €33.1bn in revenue in 2011 and an operating profit of €5.3bn and EBITDA of €7.4bn.
| | |
| --- | --- |
| Long position overnight fee | -0.0064% |
| Short position overnight fee | -0.0059% |
| Overnight fee time | 22:00 (UTC) |
| Spread | 0.05 |
| | |
| --- | --- |
| Long position overnight fee | -0.0064% |
| Short position overnight fee | -0.0059% |
| Overnight fee time | 22:00 (UTC) |
| Spread | 0.13 |
| | |
| --- | --- |
| Long position overnight fee | -0.0064% |
| Short position overnight fee | -0.0059% |
| Overnight fee time | 22:00 (UTC) |
| Spread | 0.09 |
| | |
| --- | --- |
| Long position overnight fee | -0.0242% |
| Short position overnight fee | -0.0203% |
| Overnight fee time | 22:00 (UTC) |
| Spread | 0.110 |
"This is good but not on par with Ferrari's 35.7% in 2021. It should be said that Ferrari (RACEm) is a company that can extract even more in profits per car manufactured due to its higher brand status," Garnry said.
"With an estimated market value of €75bn and the EBITDA of €7.4bn in 2021 it translates into a multiple of 10.1x which is significantly lower than Ferrari's multiple of 22.2 times market value to EBITDA."
Volkswagen (VOW3) and the Porsche family want a successful IPO and are aware of the current market volatility.
Garnry highlights that Porsche's revenue grew 8% in the first half of 2022 with strong cash flow generation of €3.9bn which is a strong result given the general weakness in the car industry, but still lower than Ferrari (RACEm) which has seen its revenue growing 17.3% year-on-year and 24.9% year-on-year in Q1 and Q2 respectively.
EV focus
Analysts believe the main question from potential shareholders of Porsche, will focus on whether the company can transition easily to become a fully Electric Vehicle (EV) organisation.
"It is clear when you compare Porsche to Ferrari (RACEm) that there is room for improvement and a potential upside if Porsche can improve its operations and expand on its already strong brand," Garnry said.
"Volkswagen has promised that synergies will continue to exist between the Volkswagen group and Porsche, but for the future success of Porsche we believe the key is more autonomy."
Ferrari

(RACEm) share price chart
Risks are high
But the risks to the Porsche IPO are still very real and its race to beat Ferrari (RACEm) will not come without a few bumps in the road.
The cost-of-living crisis has hit the pockets of millions, with people – even the more affluent, having to tighten their purse strings, the sector is at risk from lower demand.
"Because Porsche buyers are wealthy individuals it is not unreasonable to speculate that falling equity and bond markets could severely impact sentiment among the 1% richest of the world," Garnry said.
"Another risk for Porsche is if the EUR stages a strong comeback as it would affect the value of international sales and reduce its competitiveness abroad," Garnry concluded.
Related reading