Polestar revs up $20bn IPO deal with Gores Guggenheim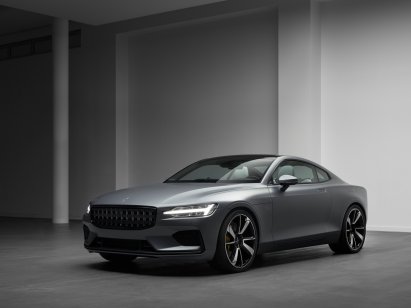 Sweden's Polestar Performance plans to list on the Nasdaq through a merger with special purpose acquisition company (SPAC) Gores Guggenheim in a deal valued at about $20bn (£15bn).
The price represents approximately three times estimated 2023 revenue, forecast at $6.7bn, and 1.5x estimated 2024 revenue, projected at $13.2bn. The company disclosed estimated 2021 revenue of $1.6bn, EBITDA of negative $700m and a net loss of $1bn.
A SPAC – also known as a "blank cheque company" – is an investment vehicle formed expressly with the intention of raising funds to buy a company in a particular industry.
Following the merger, the combined company will be renamed Polestar Automotive Holding UK Limited and will list under the "PSNY" ticker in the first half of 2022.
Leonardo DiCaprio was early investor
Polestar is a Swedish premium electric performance car brand founded by Volvo Cars and China's Zhejiang Geely Holding in 2017.
The auto manufacturer offers two vehicles: the Polestar 1 and Polestar 2, which are available in Europe, North America and Asia. One of the company's early investors was Hollywood actor and activist Leonardo DiCaprio.
"With two award-winning cars on the road today in 14 active markets across three continents, we seek to expand to 30 markets by 2023," Polestar chief executive Thomas Ingenlath said in a press release.
"We are thrilled about the targeted addition of three new premium electric cars to our line-up by 2024, starting with our first SUV expected in 2022," Ingenlath said.
A "stand-out" EV company - Alec Gores
"Polestar is a stand-out company in the EV space - a design-led, sports-performance oriented electric OEM focused on industry-leading sustainability solutions," Alec Gores, chairman of Gores Guggenheim and chief executive of The Gores Group added.
"The company is truly differentiated from others given its premier vehicles, attractive financial profile, strong track record of performance, and the fact that it already has cars on the road across the globe," Gores said.
In a separate press release, Polestar said the business combination wouldn't affect its customers nor will it move its head office from Gothenburg, Sweden.
Delivered 10,000 cars in 2020
Polestar delivered about 10,000 vehicles in 2020 and expects to sell about 290,000 a year by 2025.
Monday's deal includes a private investment in public equity (PIPE) of about $250m, which will be added to the roughly $800m in cash currently held by the Gores SPAC.
Current Polestar equity holders will retain approximately 94% ownership in Polestar and roll 100% of their equity interests into the pro forma company.
The transaction is expected to lose in the first half of next year.
Gores Guggenheim listed in March of this year. It is led by chairman Alec Gores, the founder and chief executive of The Gores Group.
Citi is acting as exclusive financial advisor to Polestar and is acting as joint placement agent on the PIPE. Deutsche Bank Securities is acting as financial advisor and lead capital markets advisor to Gores Guggenheim and joint placement agent on the PIPE.
Read more: Swedish battery maker Northvolt partners with Volvo