Pints turn sour as UK's JD Weatherspoons report a loss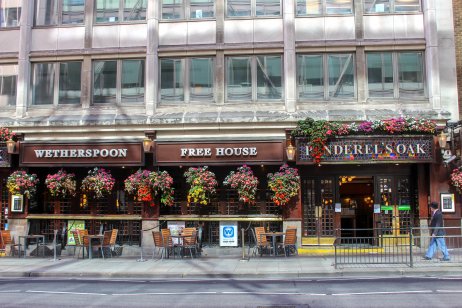 UK-based pubs and hotel group, JD Weatherspoons reported a loss in its full-year results published on Friday.
Like-for-like sales were down by over 34% compared to last year. Revenue for the group was at £772.6m (€666.9) versus last year's figure of £1,262m. Loss before tax was at £154.7m versus last year's loss of 34.1m, a decline of 353.7%.
The board announced that no dividend was paid in March 2021 and that it did not propose a final dividend payment for the year.
Commenting on the results, Tim Martin, chairman of J D Wetherspoon said: "Like-for-like sales in the first nine weeks of the current financial year were 8.7% lower than the same weeks in August and September 2019, before the pandemic started. In the last four weeks of the period, like-for-like sales were minus 6.4%."
Vacancies and pub closures
According to the company, it received a reasonable amount of applications for vacancies but in some areas of the country, particularly staycation areas in the West Country found it hard to attract staff.
"During the pandemic, the pressure on pub managers and staff has been particularly acute, with a number of nationwide and regional pub closures and reopening's, often with very little warning, each of which resulted in different regulations," said Martin.
"In the last year, the country moved, in succession, from lockdown, to 'Eat Out to Help Out', to curfews, to firebreaks, to pints with a substantial meal only, to different tier systems and to further lockdowns," he added.
Low transmission
"In spite of these obstacles, Wetherspoon is cautiously optimistic about the outcome for the financial year, on the basis that there is no further resort to lockdowns or onerous restrictions," Martin said.
According to Weatherspoons, one of the surprising statistics was the low transmission of the virus in pubs.
The stock price of JD Weatherspoons was down 0.10% at £10.43 in early morning trade at the London Stock Exchange.
Read more: UK unveils new council to help recovery of hospitality sector