Pfizer (PFE) jumps 2% after FDA approves Covid pill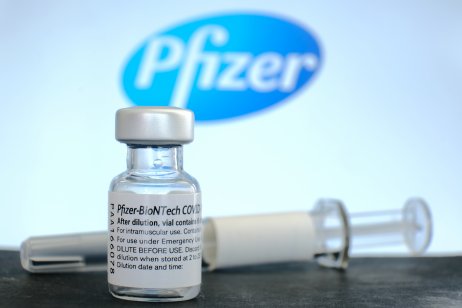 The stock of vaccine manufacturer Pfizer Corporation jumped 2% to $60.53 by 16:25 UTC on Wednesday after the US Food and Drug Administration (FDA) approved its Covid treatment pill.
Pfizer's stock has gained more than 15% over the last month and is up more than 50% over the last six months.
FDA approval
The FDA issued an emergency use authorisation for Pfizer's Paxlovid pill on Wednesday, saying the drug is safe for people aged 12 years and over to use.
The agency also said the pill is not authorised for pre-exposure or post-exposure prevention of Covid-19, nor is it a substitute for getting vaccinated.
Instead, the FDA said Paxlovid is available by prescription only and should be taken within five days of developing symptoms.
Dr. Patrizia Cavazzoni, the FDA's director for drug evaluation and research, described the authorisation as "a major step forward in the fight against this global pandemic."
"This authorisation provides a new tool to combat Covid-19 at a crucial time in the pandemic as new variants emerge and promises to make antiviral treatment more accessible to patients who are at high risk for progression to severe Covid-19," Cavazzoni said.
What is your sentiment on PFE?
Vote to see Traders sentiment!
Other vaccine manufacturers
The FDA's announcement also helped Pfizer outperform peer companies like Moderna, Johnson & Johnson, and Merck during Wednesday's trading session.
Moderna suffered the toughest loss of the day, losing more than 6% in value to $249.44.
Johnson & Johnson and Merck both rose slightly by 0.22% and 0.7%, respectively, on the day. J&J finished trading at $167.53, while Merck closed out at $76.06.
Read more: AstraZeneca sees rise in revenue but delays Covid-19 vaccine delivery