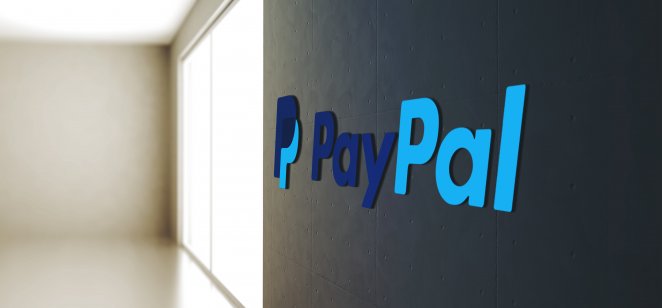 Content
In the first seven month of this year, the stock price of payment giant PayPal (PYPL) has not yet been able to reverse its downtrend. The end of Covid-19 restrictions in most countries has seen less online shopping and a reduction in the need for digital payment.
Rising inflation – at the highest level in four decades in the US – has forced consumers to cut their spending. The ongoing Russia-Ukraine war has raised the prices for food and energy, exacerbated inflation and prompted investors to dump growth stocks, especially in technology companies.
The headwinds have continued to pressure PYPL stock price, erasing a 116.5% gain in 2020 when the pandemic hit. As a result, it has dropped more than 58% this year and declined nearly 73% year-over-year (YoY), lagging the Nasdaq Index (US100) which has fallen 24.20% this year and 15.51% YoY.
At the time of writing (21 July), PayPal's stock rose. 3.22% to $80.24 at the close on 20 July. However, it recorded a weekly gain of 15.92% outperforming the Nasdaq, which rose by 7.95% in one week, according to TradingView.
This article examines whether other factors have affected PYPL's ongoing downtrend, the latest stock news and PayPal's share price forecast from analysts.
PayPal (PYPL) technical analysis
A PayPal's stock analysis by TradingView showed PayPal's closing price on 20 July was nearly 74% below its all-time high closing price of $308.53 a share, achieved on 23 July 2021.
PYPL fell nearly 25% in a single day for the first time this year on 2 February, after the company announced financial results for the fourth quarter of the fiscal year 2021. The downtrend has continued since then.
The stock had managed to book its biggest gain in a single day this year, closing 11.48% higher on 28 April, a day after it reported that its revenue in the first quarter for the fiscal year of 2022 was above analysts' expectations. The gain was short-lived and PYPL resumed its decline.
As of 21 July, PayPal's stock has declined by 58.09% this year and 72.94% YoY, according to TradingView.
PYPL's technical analysis showed bearish sentiment in its weekly and monthly indicators, suggesting a strong sell. At the time of writing (21 July), most moving averages (MAs) suggested a 'sell'. The Relative Strength Index (RSI) reading was was 58.62, indicating 'neutral'. An RSI reading at 30 or below shows that the stock is oversold or undervalued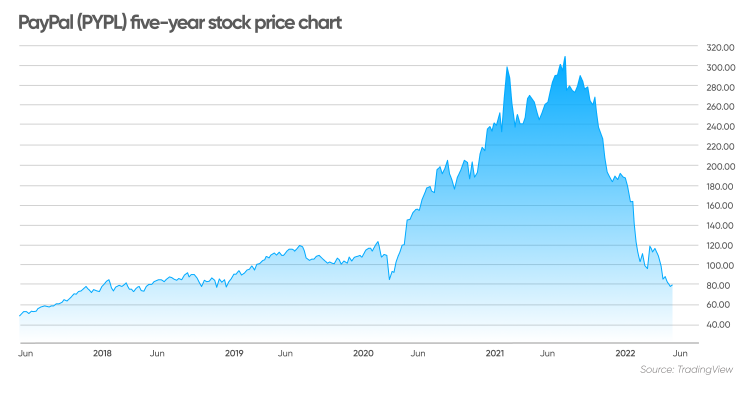 What is your sentiment on PYPL?
Vote to see Traders sentiment!
PayPal stock outlook: Rate hikes and increased competition
Inflation is likely to remain bad news for the California-based fintech leader. The US annual inflation rate, as indicated by the Consumer Price Index (CPI), soared to 9.1% in June from 8.6% in May. The most recent data indicated that inflation remains elevated, which is unlikely to change the US Federal Reserve's (Fed) already aggresive stance.
This year, the Fed has raised borrowing costs three times. First, by 25 basis points in mid-March, followed by a 50-basis-point increase in early May and a surprise 75bps raise in mid-June.
Brett Horn, Morningstar's senior equity analyst, in a note issued on 11 July, said that PayPal is likely to face headwinds from e-commerce and electronic payments which had turbocharged the company's growth during the Covid-19 pandemic.
"Longer term, though, the picture is less certain, and we see a mix of competitive opportunities and threats that create a fairly wide range of outcomes. PayPal remains a somewhat unique player within the payments space. We think this remains its key strength, but its position on both the merchant and consumer side could be challenged over the long run," Horn said.
Horn also highlighted rising competition from rivals that try to replicate Paypal's business model.
"Fintech innovation also appears to be concentrated in the e-commerce space, which has given rise to some new competitors. On the consumer side, services such as Apple Pay represent competition for PayPal. Competition on both sides could chip away at PayPal's position," he said.
PayPal stock prediction: Analyst sentiment
Morningstar maintains its fair value estimate for PYPL's stock price at $135 per share.
"The payment processing industry is evolving, and it is possible that new competition and future disruption could significantly reduce the profitability PayPal can generate or cut it out altogether. As the company's revenue is directly tied to revenue at its merchant customers, PayPal is sensitive to macroeconomic conditions. PayPal's international operations present currency and execution risk. Some governments have shown a preference for local payment processors, which could freeze PayPal out of certain markets," said Horn.
Horn added that the company's peer-to-peer or P2P, Venmo, is unlikely to become a major driver anytime soon, despite it generating $900m in revenue in 2021 or 4% of Paypal's revenue. In addition, its future is difficult to predict.
| | |
| --- | --- |
| Long position overnight fee | -0.0064% |
| Short position overnight fee | -0.0059% |
| Overnight fee time | 21:00 (UTC) |
| Spread | 0.15 |
| | |
| --- | --- |
| Long position overnight fee | -0.0308% |
| Short position overnight fee | -0.0137% |
| Overnight fee time | 21:00 (UTC) |
| Spread | 0.33 |
| | |
| --- | --- |
| Long position overnight fee | -0.0064% |
| Short position overnight fee | -0.0059% |
| Overnight fee time | 21:00 (UTC) |
| Spread | 0.05 |
| | |
| --- | --- |
| Long position overnight fee | -0.0064% |
| Short position overnight fee | -0.0059% |
| Overnight fee time | 21:00 (UTC) |
| Spread | 0.31 |
Jefferies in its PayPal's stock forecast on 13 July maintained a 'hold' rating and lowered PayPal's stock price target to $75 per share from $85/share with a high price target of $110 and a low price target of $60.
As of 21 July, 43 analysts tracked by MarketBeat put a 'moderate buy' call for PYPL. They offered an average PayPal stock price target for the next 12-month of $145.90, representing a potential increase of 81.84% from the closing price of $80.24 on 20 July.
A 'strong buy' was the consensus recommendation of 32 Wall Street analysts polled by TipRanks as of 21 July – 25 analysts rated the stock a 'buy', six a 'hold' and one a 'sell'. The average 12-month price forecast for PayPal was $115.29, implying a potential upside of 43.68% from the last price of $80.24 on 20 July. Analysts offered a high forecast of $180 and a low of $75.
Trading Economics expected PayPal to trade at $71.88 by the end of the second quarter and at $66.14 in one year. The economic data provider based its PayPal's stock predictions on projections made from global macro models and analysts' expectations.
The consensus recommendation of 49 analysts tracked by MarketWatch was 'overweight', with 30 analysts rating the stock a 'buy', four 'overweight', 14 'hold', and one 'sell'. The analysts set the PYPL 12-month price target at an average of $109.54, with a high estimate of $160 and a low of $75.
PayPal stock forecast 2022-2025, 2030
Analysts typically do not provide long-term PayPal's share price forecasts, but algorithm-based price prediction services such as Wallet Investor, give PayPal's future stock price using PYPL's historical prices.
Algorithm forecasting services have mixed views on PYPL stock. Wallet Investor was bearish on PayPal's future stock price, saying: "PayPal Holdings Inc stock is a bad long-term (one year) investment."
As of 21 July, Wallet Investor in its PayPal's stock forecast for 2022 expected it could drop to $16.474 in December 2022. The price forecasting service's PayPal stock forecast for 2025 showed the stock could plunge to $0.000001 in December 2025. The forecaster projected the stock to continue trading as low as $0.000001 by July 2027.
On the other hand, machine-learning prediction service Gov Capital was optimistic that the stock could reverse its downtrend. In its PayPal stock predictions it estimated the share value could rise to $83.807 on 31 December 2022, climbing to $864.490 on 31 December 2025 and $1,496.521 on 24 July 2027.
The two forecasting services did not provide PYPL's stock forecast for 2030.
When looking at PYPL stock forecasts, it's important to remember that analysts' forecasts and price targets can be wrong and should not be considered a recommendation to invest in the company.
It's vital to do your own research and consider the latest market trends and PayPal stock news. Your decision to trade should depend on your attitude to risk, your expertise in the market, the spread of your investment portfolio and how comfortable you feel about losing money. And never invest more than you can afford to lose.
Is PYPL a buy now?
Analysts tracked by stock analysis companies mentioned in this article recommended a 'buy' for PYPL's stock, as of 21 July. However, keep in mind that there are many factors that influence analysts when they offer ratings for a company, including the company's performance and macroeconomic factors. As a result, ratings can change over time, depending on those factors.
Will PayPal stock go up?
Analysts and algorithm-based forecasting service Gov Capital expected the stock to go up within a year in their PayPal's share price forecast. On the other hand, Wallet Investor expected the stock price to drop in the same period.
Bear in mind that stock markets remain volatile, and there may be price fluctuations. Both analysts and algorithm-based websites do get their predictions wrong. Always rely on your research. And never invest money that you cannot afford to lose.
FAQs
Is PayPal a good stock to buy?

As of 21 July, analysts tracked by MarketBeat rated PYPL stock a 'buy'. Analysts polled by TipRanks rated it a 'strong buy'. Analysts at MarketWatch rated the stock 'overweight'. Jefferies maintianed a 'hold' rating.

Whether or not PYPL is a good investment for you will depend on your portfolio composition, investment goals and risk profile. Different trading strategies will suit various investment goals, whether short or long term. Always do your own research. And never invest money that you cannot afford to lose.
Where will PayPal stock be in 5 years

Gov Capital forecast that PayPal's stock could rise to $1,496.521 on 24 July 2027. Wallet Investor estimated that it could drop to $0.000001. Please remember that forecasts from prediction services and analysts' ratings can be wrong and have been inaccurate in the past. Always do your own research. And remember never to invest more money than you can afford to lose.
How high can PayPal stock go?

Forecasting is difficult. Many factors influence a company's stock price. Some are influenced by the company's performance, while broader macroeconomic factors influence others. Because markets are volatile, there are no guarantees.
Is PayPal a good long term stock?

This year, PayPal's stock has been stuck in a downtrend, pressured by a broader shift in sentiment over tech stocks. Whether PayPal is a good long-term investment is determined by your investment goals and the research you've undertaken. Remember that forming your own opinion about a company's prospects and the likelihood of meeting analysts' targets is critical.
Should I invest in PayPal stock?

As of 21 July, PayPal stock had lost approximately 58% of its value this year. Your decision to purchase PayPal stock should be based on your risk tolerance, portfolio size and goals, and stock market experience. You should always conduct your research to determine whether a stock is suitable for you. Remember that previous results do not guarantee future returns. And never invest or trade money that you cannot afford to lose.
Further reading: