On Holding (ONON) beats EPS estimates by 169%, stock up 27%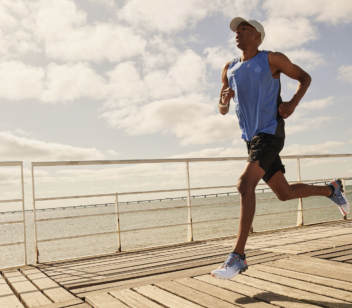 On Holding AG's stock surged Tuesday after beating both top- and bottom-line estimates handily and reporting a profit in its first reporting period as a publicly traded company.
On Holding stocks jumped 27.2% to a session high of $46.39 versus Monday's $36.46 closing share price, after reporting earnings before the opening bell.
On Holding reports its financials in Swiss Francs (CHF).
With analysts expected a CHF 0.10 per-share quarterly loss, On Holding reported a CHF 0.4 per-share profit on CHF218m ($220.9m as of a 30 September conversion rate) in revenue. The CHF218m in revenue represents a 67.6% increase compared to the comparable quarter in 2020.
Share prices remained high throughout Tuesday, with On Holding stock near session highs in afternoon trading. On Holding trades on the NYSE under the ticker ONON.
Strongest quarter in company history
"The third quarter of 2021 has been the strongest in the history of the company in terms of net sales, gross profit, and adjusted EBITDA. We are thankful for the relentless work of our team during the pandemic to achieve this," said co-CEO and CFO Martin Hoffmann in a prepared statement.
"Consumer demand for the On brand is accelerating across the globe, evident by the fact that our wholesale and direct-to-consumer sales channels, geographic regions, and product groups have all contributed significantly to our strong growth. We expect the demand for the On brand to increase."
Uncertainty over supply chain
Despite the stronger-than-expected sales, however, the Zürich, Switzerland-based athletic apparel and shoe manufacturer warned of uncertainty ahead due to Covid-19-related supply chain disruptions.
"Recent supply chain challenges will lead to a transitory supply shortage in the fourth quarter and the first half of 2022," Hoffman said in the same release. But since early November, all our production factories are open, and our outlook on net sales and adjusted EBITDA exceeds our original assumptions."
In particular, the company cited manufacturing factory closures in Vietnam as creating a "transitory impact on our financial performance for the upcoming quarters." Specifically, it cited a slow ramp-up in production, delays in future sales and increased air and freight shipping costs, as well as higher warehouse labour expenses.
Return to hyper-growth
Looking ahead, On Holding expects full-year 2021 revenue to total CHF710m, up roughly 67% versus 2020 revenues. For the full-year 2022, On Holding expects revenue to increase 35.2% to at least CHF960m in revenue, on a return to hyper-growth in the second half of 2022.
JPMorgan Securities analysts said in a research note they expect consensus revenue estimates to increase "by at least mid-single-digit(s)" as a result of the company's outlook. JPMorgan has an Overweight rating on On Holding stock.
"We believe we are well-positioned to leverage this market momentum and to capitalise on the powerful consumer trends that are enlarging the global sportswear industry, increasing our brand awareness, and expanding the size and breadth of our community," Hoffman added.
This was the first reporting period for On Holding since its initial offering of 31.1m shares to the public at $24 per share on 13 September.
Read more: On runs into IPO market