Oil rebounds from Omicron chaos, US natural gas remains lower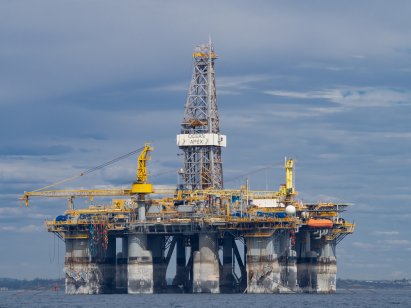 US natural gas prices continue their downward momentum, trading around $3.70 per million British thermal units, a level last seen in mid-August.
The decline comes even as Royal Dutch Shell's Prelude plant in Northern Australia, the world's biggest floating liquid natural gas plant, suffered a power outage last week, halting production while workers were evacuated.
US natural gas prices have diverged from the EU Dutch gas values in Europe, which are rising, as a cold snap in the region reduces inventories.
The energy markets are also anticipating further US sanctions against Russia as tensions in Ukraine rise. Meanwhile traders have had a muted reaction to the US-Iran nuclear talks.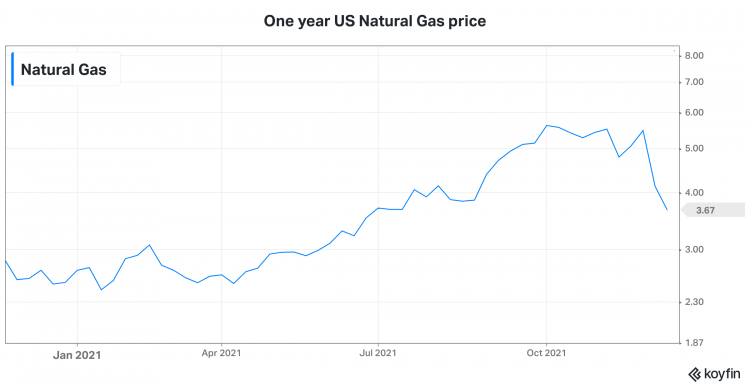 One year US natural gas price – Credit: Koyfin
Brent Crude Oil and US Crude Oil are trading higher than this time last week with prices hovered around $74 and $71 per barrel respectively. The uncertainty regarding the Omicron variant appears to have subsided. Saudi Arabia's announcement of price increases in January for exports to the US and Asia further added additional upward momentum.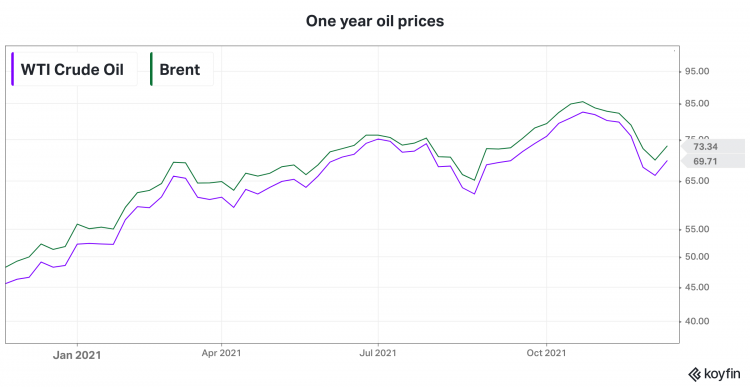 One year oil prices – Credit: Koyfin
Performance
Day range: $71.47 - $75.25
52 week range: $48.09 - $86.70
10-day Exponential Moving Average (EMA): $73.84
14 Week Relative Strength Index (RSI): 50.37
Day range: $69.52 - $71.93
52 week range: $44.95 - $83.83
10-day Exponential Moving Average (EMA): $70.43
14 Week Relative Strength Index (RSI): 49.98
Day range: $3.63 - $3.80
52 week range: $2.26 - $6.47
10-day Exponential Moving Average (EMA): $4.31
14 Week Relative Strength Index (RSI): 41.12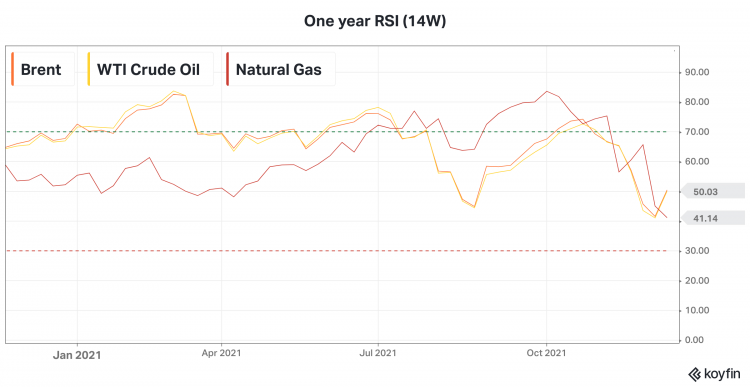 One year RSI – Credit: Koyfin
Read more: Oil prices slump as supplies grow less than expected