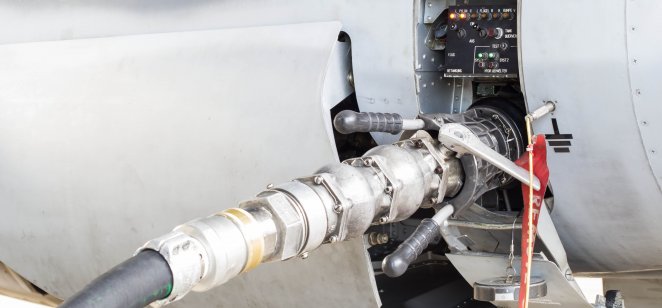 Jet fuel continues to rocket to record highs after soaring demand and lower production sent future prices into the stratosphere.
The heavy fuel hit record levels this week, topping more than $318 a barrel on the New York Mercantile Exchange or $7.59/gallon. The high prices are buoyed by events which are rapidly hindering supplies, according to analysts interviewed by Capital.com.
"The markets are going to remain relatively tight," said Phil Flynn, senior analyst for Price Futures Group. "We're not going to see a reduction in price as it's a very tight market with upside risk."
As the world recovers from the Covid-19 pandemic, global demand for jet fuel was up by more than 39% from last year, while supply was down 7.6% during the same period, said Flynn, adding there's only about 36.1 million barrels in storage currently.
The jet fuel price hike cannot be attributed to a simple factor, the analysts said.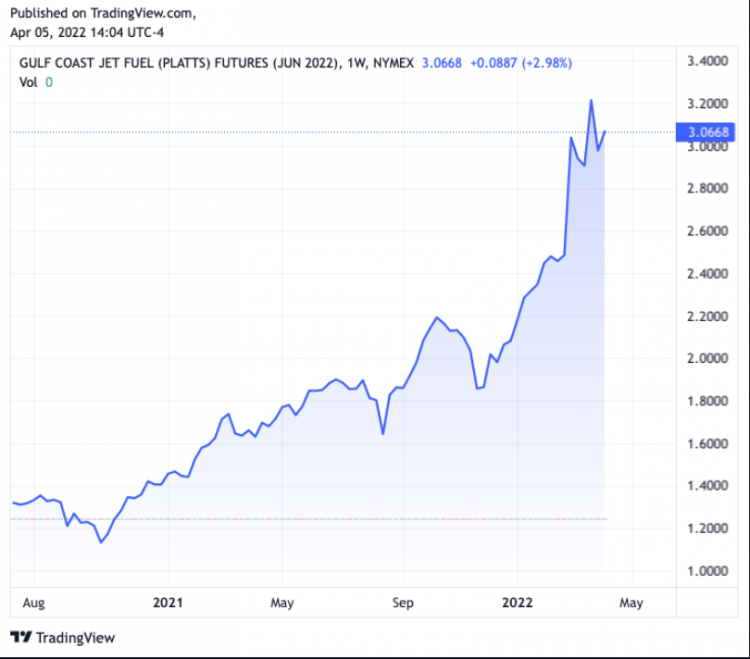 Gulf Coast jet fuel June 2022 futures – Chart: TradingView
Priorities
Currently, regional jet fuel stockpiles are at a seven-year low after years of refineries focusing on gasoline and diesel production, said Edward Moya, senior market analyst for OANDA, "That means jet fuel wasn't a priority and now inventories are too low," he said
It's estimated 9% of crude oil is distilled into jet fuel, compared to 43% refined to gasoline and 22% diesel.
Flynn added that logistical issues with pipelines are adding to the cost.
Refineries will work on increasing inventory levels going forward, the analysts said.
Higher airfares
Tight supplies and lack of production comes on the cusp of the airline industry's busy vacation travel season, the analysts said. Americans and Europeans are aching to travel and with warmer weather coming, air travel will increase to pre pandemic levels, they added.
Flynn forecast increases in fuel surcharges "are around the corner" as a way for airlines to offset the record-high prices.
What is your sentiment on FDX?
Vote to see Traders sentiment!
Air cargo cost has increased significantly since the US embargoed Russian oil.
FedEx (FDX) recently increased surcharges for international packages and freight. Some surcharges more than doubled from 55 cents to $1.20 a pound, according to Memphis, Tennessee based company's website.
Cargo carriers are also using cheaper fuel and rerouting flights, according to various sources.
FedEx (FDX) price chart
Russia oil ban
The US and Canada's ban on Russian oil has impacted the cost in North America. Jet fuel is distilled from heavy crude, a high density, unsuitable for combustible engines. A large portion of Russia's exported natural gas was a heavy crude ideal for refining into jet fuel.
It's estimated 9% of crude oil is distilled into jet fuel, compared to 43% refined to gasoline and 22% diesel.
Further Reading: