Oil prices continue recovery, while gas prices move in narrow range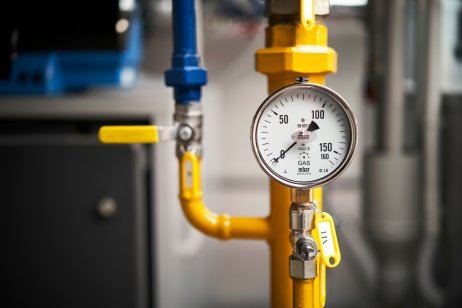 US natural gas prices have fallen almost 40% from their historic peak during the first week of October.
The price has fluctuated between $3.50 to $4.50 since the start of December – the upper price limit dictated by muted demand in the US due to mild weather.
The lower limit is the result of below-average inventories, largely due to higher electricity consumption in the summer and increased exports.
According to the US Energy Information Administration (EIA), November inventories ended 3% lower than the five-year average.
The EIA expects this demand to taper off in the next few months, erasing the lower limit, with the average in the new year expected to be around $2.88 per million British Thermal Units.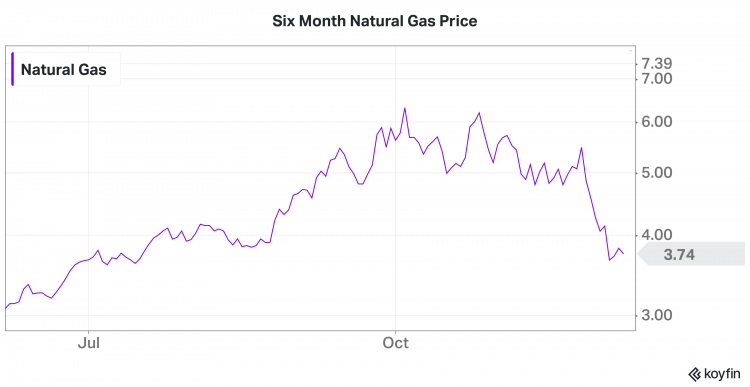 Natural Gas Price – Credit: Koyfin
Brent crude oil and US crude oil traded at around $75 and $72 per barrel respectively. Prices have recovered more than 60% since the significant sell-off after the emergence of the new Covid variant, Omicron.
The effect on public health from the new strain appears to be not so severe, according to most government bodies.
Further reassurance came from Pfizer, which released a statement on Wednesday stating that studies had shown three doses of its vaccine will protect against the new variant.
The EIA remains cautious about the effects of further lockdowns on demand for oil, particularly jet fuel. However, it expects average consumption to increase by 4% in 2022.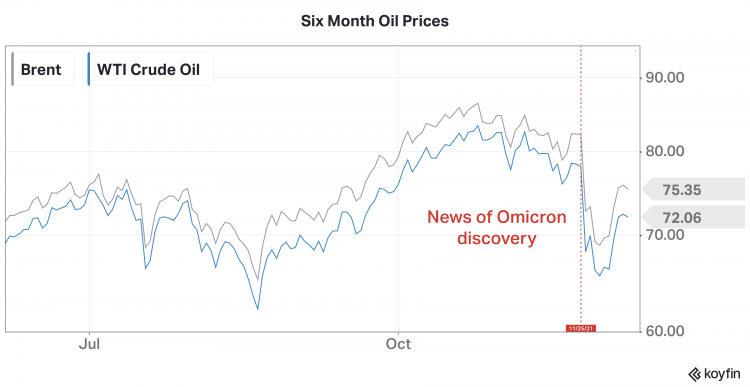 Oil prices have recovered more than 60% since the recent sell-off on the emergence of Omicron – Credit: Koyfin
Performance
Day range: $75.14 - $76.54
52 week range: $48.09 - $86.70
52 week price change: 55.73%
10-day Exponential Moving Average (EMA): $74.45
14-day Relative Strength Index (RSI): 45.45
Day range: $71.84 - $73.34
52 week range: $44.95 - £83.83
52 week price change: 58.96%
10-day Exponential Moving Average (EMA): $71.05
14-day Relative Strength Index (RSI): 45.56
Day range: $3.66 - $3.85
52 week range: $2.26 - $6.47
52 week price change: 56.35%
10-day Exponential Moving Average (EMA): $4.12
14-day Relative Strength Index (RSI): 35.57
Read more: Third Pfizer (PFE) vaccine neutralises Omicron, study finds