Ocado [OCDO] shares rise over 9% as it promises 'best-ever Christmas'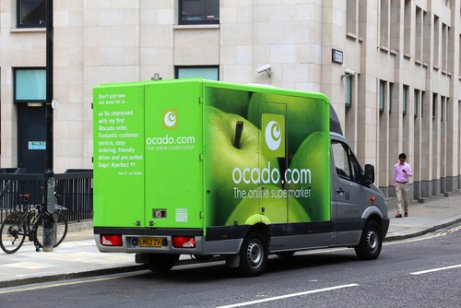 Ocado (OCDO) saw its stock price rise more than 9% today as it promised a "best-ever Christmas ahead" in its latest trading statement amid news of its patent infringement battle victory in the US.
In 2020, it was announced that Ocado was being sued by Norwegian robotics company AutoStore, which alleged that Ocado's robot-operated warehouse infringed its company patents.
Its win – which it was awarded after three of the four AutoStore patents were found to be invalid – now means it can focus on recovery in the year ahead.
Like most other retailers its sales growth was curbed by labour shortages early in the quarter, a reduction in headcount and by shoppers buying fewer goods.
"Fresh off the news that it has won a patent infringement court battle in the US with rival AutoStore, the main headline from Ocado's trading statement is Q4 sales of £547.8m, a decline of 3.9% year on year – largely because of the normalisation of average basket values, which fell 12% to £118 as many consumers returned to the office and spent less time at home," said Russell Pointon, director, consumer, at equity research firm Edison Group.
Labour issues
The labour shortages and a slowdown in sales was also affected by a fire at its south-east London warehouse in July. In its Q3 update, Ocado had highlighted that capacity at the site had returned to pre-fire levels.
Despite labour challenges Ocado, which is a joint venture with Marks & Spencer (M&S), has seen an increased demand for its online grocery delivery services, which it believes will result in bumper Christmas sales.
The company reported a 9% increase in customer orders versus the previous year, which it said was driven by a 22% increase in active customers – up to 832,000.
Melanie Smith, Ocado Retail's CEO, said: "We are delighted that M&S products now account for nearly 30% of the basket – our customers clearly love the opportunity to buy M&S food online."
What is your sentiment on OCDO?
Vote to see Traders sentiment!
Strong growth expectations
Ocado said it expected revenue growth to return to strong mid-teens figures in 2022 – at the top of the historic pre-Covid range of 10-15%. It added that it had ambitions for EBITDA margins to rebuild towards 2021 levels. This would follow a significant year of investment of around £50m in 2022.
Smith added: "The investments we have made over the past year mean we have significant capacity for growth in 2022 and we will continue to invest in facilities, systems and people in the year ahead to deliver on our long-term growth potential.
"We are working hard to manage current industry challenges, and Ocado Retail has great momentum as we get ready for another record Christmas and further strong progress next year."
Pointon added: "Looking ahead, if management can mitigate the impact of cost inflation due to nationwide utility price increases and dry ice shortages, the 2020-21 outturn is expected to be in line with guidance."
There are now rumours that M&S [MKS] wants to boost its 50% stake in Ocado, but Ocado Group's finance chief told Reuters that this was "pure speculation". M&S shares were down slightly by 0.86% this morning.
Read more: Is private equity interest for M&S [MKS) investors a good thing?