NFL's Green Bay Packers raising $90m, in offering $300 a share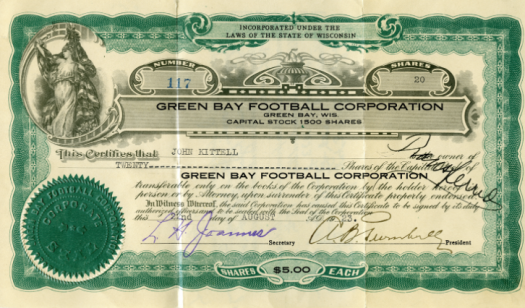 The National Football League's (NFL) Green Bay Packers are selling 300,000 shares to the public at $300 per share, in aim of raising $90m (£66.99m), the football team announced.
This is the sixth time the Packers have sold shares to the public, the most recent being in 2011 when the team sold 275,900 shares at $250 per share. The Packers are the only NFL team with a non-profit communal ownership structure. No other NFL team is authorised to sell shares to the public.
Shares are offered until 25 February 2022, or until the offering is fully subscribed. There is a 200-share limit, and each certificate carries a $35 handling fee.
HD video boards on shopping list
Proceeds will go to fund renovations to the team's Lambeau Field home stadium in Green Bay, Wisconsin, including high-definition video boards in the concourse.
The funds from the stock sale will, "be segregated from the general operating funds of the corporation and used solely for stadium and other capital improvements… (including) plans to make improvements to Lambeau Field, including by installing HD video boards and making concourse improvements," according to the offering's prospectus.
Shareholders are granted no voting rights and will not receive dividend payments or otherwise profit from the future sale of stock.
Community programmes could benefit
As the Green Bay Packers are incorporated as a non-profit corporation, "Purchasers of Common Stock will not truly participate in the corporation's economic fortunes," the prospectus added.
"Any increase in value or operating profits (in excess of reserves) and any proceeds upon liquidation of the corporation, including any that may derive from improved facilities built with Common Stock proceeds, will go to community programmes, charitable causes or other similar causes."
Green Bay Packers' stock does not trade on any exchange and shares may only be transferred as gifts or as an inheritance.
"Bylaws prohibit transfers of shares of Common Stock to third parties, other than to a member of the holder's 'immediate family' by gift or in the event of death, a holder of Common Stock cannot resell shares to obtain a profit as there will be no market for Common Stock."
NBC Sports analyst Mike Florio, who also writes for Profootballtalk.com, commented, "It is, put simply, a donation. And the certificate becomes the ultimate piece of memorabilia, an official license to say 'we' when referring to victories and defeats."
This assessment is confirmed in a letter to, "Future owners of the 13-time World Champion Green Bay Packers," CEO Mark Murphy said, adding, "Shares of stock in the Packers make a cherished holiday gift."
Flag on the play
Despite having zero financial upside for shareholders, there is an – albeit unlikely – potential downside.
"NFL rules prohibit conduct by shareholders of NFL member clubs that is detrimental to the NFL, including, among other things…publicly criticising any NFL member club or its management, employees or coaches or any football official employed by the NFL," the prospectus warned.
"If the commissioner of the NFL decides that a shareholder of an NFL member club has been guilty of conduct detrimental to the welfare of the NFL then, among other things, the commissioner has the authority to fine such shareholder up to $500,000 and/or require such shareholder to sell his or her stock."
Read more: As sports return to NYC, MSG Sports beats EPS estimates by 467.7%