Next Christmas sales: NXT numbers set to show tough festive period for UK retail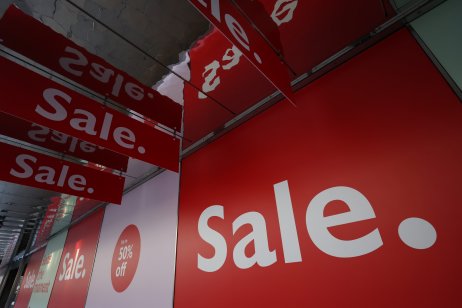 Fashion and home interiors retailer Next (NXT), is traditionally the last major chain store to go live with its year-end sales.
However, markdowns went live on Christmas Eve this year, suggesting the FTSE 100 stalwart has not proved immune to the challenges posed by inflation, dreadful weather and the cost-of-living crisis.
The company downgraded full-price sales and profit expectations for the year back in August, and as Russ Mould, investment director at AJ Bell points out, another disappointment would be no great shock now, especially as the shares are down by 30% in the past year and trading no higher than they did in January 2014.
Next (NXT) share price chart
The seasonal trading update due this Thursday will not quite cover the full fiscal fourth quarter to the end of January. It will be benchmarked against the reduced guidance given by boss Lord Simon Wolfson alongside August's first-half results and re-iterated when the omni-channel retailer produced its third-quarter sales update in November.
Back then, Lord Wolfson projected a 2% year-on-year drop in full-price sales in the fourth quarter and 4.8% growth for the year overall.
"The anticipated drop in the festive period reflects not just the pressure on consumers' incomes – and Next's customers may be classic examples of the squeezed middle – but also the tough base for comparison as last year benefited from an easing in the pandemic, an end to lockdowns and pent-up demand," Mould explains.
He adds that analysts will also look to the sales mix. In the third quarter, online full-price sales fell 1.9% year-on-year, retail grew by 3.1% and financing interest income by 8.9%.
"Higher interest rates may have helped income in the last-named although it will be interesting to see if the company flags any increase in bad debts, if shoppers are having to rely more heavily on credit to make their purchases, Mould says.
EPS is expected to rise faster than net profit thanks to the reduced share count that results from the share buyback programme which ran through to July at a cost, according to the interim accounts, of £228m.
As for shareholder returns, Mould suggests it is unlikely Next will discuss its dividend for 2022 or buyback policy for 2023 in Thursday's trading update.
"These issues are likely to be left to the full-year results in late March, although analysts are looking for a final payment of 131p a share, to take the full-year total to 197p, following the 66p interim distribution".
Ben Yearsley, investment consultant at Fairview Investing, agrees that Next won't be immune from the challenges retail faces this year.
What is your sentiment on NXT?
Vote to see Traders sentiment!
'Resilient business'
"Judging from the amount of emails I received, most fashion retailers started their sales on Christmas eve or earlier! Next has proven over time to be probably the most resilient and well-run fashion retailer and I expect them to weather the storm".
"That's not so say the share price won't fall, but once we are in more clement times the quality of the business will shine through."
Marketbeat indicates that analysts are currently positive on Next – with two out of seven brokers rating the stock a 'buy' and two a 'hold'.
The consensus price target is at the £6.32p level – with the stock currently priced at around £5.94.