TotalEnergies sticks to 2030 goal for Scope 3 emissions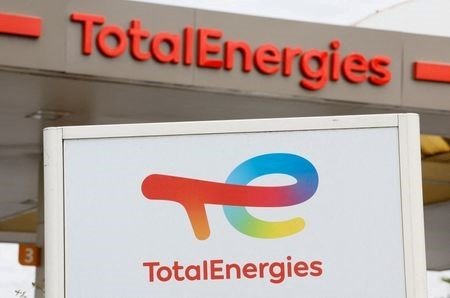 Adds details, graphic
PARIS, March 21 (Reuters) - French oil major TotalEnergies TTEF.PA forecasts emissions from customers' using its products will be below 400 million tonnes of CO2 equivalent (C02e) by 2030, it said on Tuesday, implying little change from its overall emissions last year.
End-user emissions, referred to as Scope 3, stood at 389 million tonnes CO2e last year, the company said. They account for about 91% of the energy company's greenhouse gas pollution and some investors and activists had urged the company to aggressively cut them.
In a climate update on Tuesday, TotalEnergies said it aimed to reduce emissions from its oil products by 40% in 2030 from 2015 levels, increasing its reduction target from the 30% announced last year.
But the overall target for Scope 3 emissions, which include those from the combustion of all fuels TotalEnergies sells including gas, remained at less than 400 million tonnes CO2e by 2030.
Scientists say the world needs to cut greenhouse gas emissions by around 43% by 2030 from 2019 levels to have any hope of meeting Paris Agreement goal of keeping global warming well below 2 degrees Celsius above pre-industrial levels.
Reporting by Benjamin Mallet Writing by Silvia Aloisi
Editing by Mark Potter