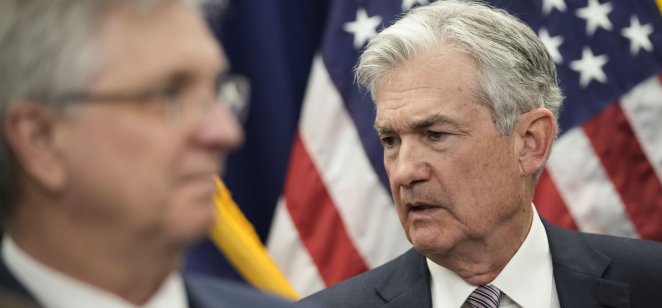 New Fed minutes released Wednesday by the US Federal Reserve's rate-setting team, the Federal Open Market Committee (FOMC), breathed new life into US equities.
"Wall Street is happy to see the Fed determined to bring inflation down, but only with a half-point rate increase," Edward Moya, senior market anaylst at OANDA in New York, told Capital.com. "The central bank is late on fighting inflation and are positioning themselves for smaller hikes if trouble emerges across Treasury and Commodities markets.
"The world's two largest economies are weakening, and some investors predict a bottom in the global market sell-off is nearing, said Moya.
Key stock indexes reacted sharply to the details of the FOMC members' debate over future rate hikes and asset disposals by the Fed.
Dow Jones Industrial Index (US30) price chart
According to the release, the Committee will seek maximum employment and inflation at the rate of 2% over the longer run, with appropriate firming in the stance of monetary policy.
The Committee has also decided to raise the target range for the federal funds rate to 3/4 to 1% and anticipates ongoing increases.
US indexes climb
During the session, the Dow Jones Industrial Average (US30) added 191 points, or 0.60%. The S&P 500 (US500) climbed 0.95% and the Nasdaq 100 (US100) jumped 1.48%.
While the Dow is up over the last five days by 2.00%, the index is off 3.55% over the last month, and 11.61% for the year to date.
What is your sentiment on BA?
Vote to see Traders sentiment!
Also on Wednesday, blue-chip shares of airplane manufacturer Boeing (BA) soared 2.23% and American Express (AXP) jumped 3.14%, while Proctor & Gamble (PG) slipped 1.64% and Walt Disney (DIS) rose by 1.64% .
Boeing (BA) stock price
Read more: