Europe sees a fall in new car registrations for July, August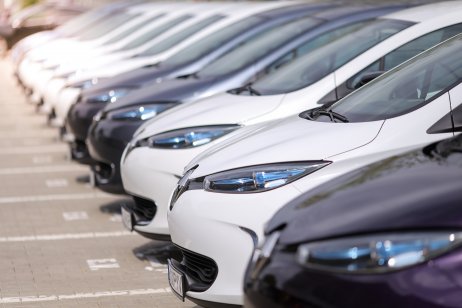 The European car market suffered a significant setback in July and August with new registrations down significantly after four months of accelerated growth.
In August, car registrations in the European Union (EU) fell by 19.1% on-year to 622,993 units, extending the slide from a 23.2% fall in July (823,949 units), according to new data released on Thursday by the European Automobile Manufacturers Association (acea).
The EU's four major markets showed similar trends in July, all posting strong losses. France saw the steepest decrease as it was 35.3% down, followed by Spain (-28.9%), Germany (-24.9%) and Italy (-19.2%).
Moreover, for the second month in a row, the largest car markets posted double-digit declines: Spain at -28.9%, Italy -27.3%, Germany -23.0% and France -15.0%.
Earlier gains boost growth
The report, however, added that over the first eight months of this year, sales volumes saw an on-year increase of 11.2%, counting 6.8 million new passenger cars in total.
Despite the weak performance of EU markets during the summer months, substantial gains earlier in the year kept cumulative growth in positive territory, it said.
As a result, each of the four major markets posted growth so far this year: Italy at 30.9%, France with 12.8%, Spain at 12.1% and Germany at 2.5%.
Seasonality and base effects
Claus Vistesen, chief eurozone economist at Pantheon Macroeconomics told Capital.com that seasonality and base effects go some way to explain the slump in growth in July and August.
"Dealers usually don't sell a lot of cars over the summer, relatively speaking, but new sales snapped back in 2020 as the economy temporarily reopened after the near-complete lockdown in Q2.
"This created a high base for the year-over-year growth rate this year, as seasonality returned to some semblance of normality. This was especially visible in the July numbers, which are published as part of today's data," he added.
"That said, the 34.6% month-to-month fall in new sales in August is a good deal worse than observed in previous years, hinting that the true, fully-adjusted, headline was soft, all the same."
Q4 lookahead
Vistesen also noted that the slowdown was broad-based across the major economies – and said a few positive readings in Eastern Europe were the only bright spots.
"Overall, new car registrations were up by just over 10% through August, compared to the same period last year. On a seasonally-adjusted basis, the ECB's [European Central Bank] new car sales index advanced by a tepid 0.3% quarter-on-quarter in Q2, rebounding from a 20% plunge in Q1 due mainly to the VAT hike in Germany and new lockdowns," he said.
The data suggests that sales remained relatively depressed, compared to their pre-virus level, at the start of Q3, Vistesen said. "And judging by today's data we are not expecting much in the way of a rebound in this quarter. Hopefully, Q4 will be better," he added.
Read more: European Commission plans greater autonomy in chipmaking