Microsoft buys 4% stake in London Stock Exchange Group: Details in full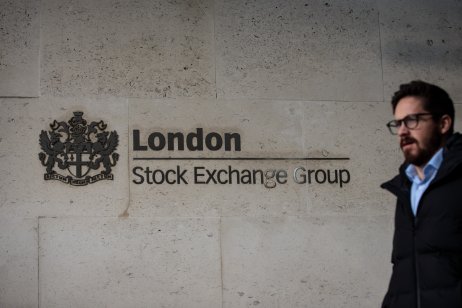 Microsoft (MSFT) has agreed to pay £1.5 bn for a 4% stake in the London Stock Exchange Group (LSE).
This comes as part of a new partnership in which the tech giant will help develop new data and analytics tools for the exchange.
This is likely to earn Microsoft $5bn in the next ten years.
Microsoft (MSFT) Price Chart
This is the latest in the trend of exchanges turning to big tech to help develop their internal systems.
Earlier this year, Amazon (AMZN) partnered with Nasdaq (NDAQ) to help migrate their data to the cloud, and Google (GOOG) made a similar deal with CME Group (CME).
The efficiency of capital markets is likely to advance with these technological upgrades. By buying a 4% stake as part of the deal, Microsoft will benefit from the potential future upside while also earning a minimum of $2.8 billion in revenue for their services to LSE.
What is your sentiment on MSFT?
Vote to see Traders sentiment!
Amazon (AMZN) Price Chart
The 4% stake will be purchased from Thomson Reuters, Blackstone, Canada Pension Plan Investment Board and Singapore's sovereign wealth fund GIC.
Scott Guthrie, executive vice president of Microsoft Cloud and AI Unit will receive a seat on LSE board.
The tech giant will spend $1.5 bn for its slice, and will receive approximately $5 bn revenue in return over the tea years of the deal as per their announcement. LSE said it has already committed to $2.8 bn at a minimum already.
The aim of the partnership is to "build intuitive next-generation productivity, data and analytics and modelling solutions with Microsoft Azure, AI, and Microsoft Teams"
LSE said in its announcement "The strategic partnership is expected to increase LSE's revenue growth meaningfully over time as the key work streams are delivered."
London Stock Exchange Group (LSE) Price Chart
Microsoft (MSFT) knows that this technological advancement will likely increase the market value of the exchange in the future, its decision to purchase a stake in the exchange will allow it to take advantage of this.
Russ Mould, investment director at AJ Bell comments says that the 4% purchase "indicates how serious the working partnership between the two companies is likely to be"
He adds "There is lots of talk about improving capabilities but as with any large technology project it's easy to talk up the benefits and underestimate the challenges associated with execution.
"By owning a chunk of the London Stock Exchange, Microsoft will share the upside if the project works and also the downside if it cannot deliver on time or to the desired effect."
Earlier this year, a deal was made between Amazon (AMZN) and Nasdaq (NDAQ), which will allow the exchange to migrate all its market data to the Amazon Web Service cloud. This means data availability and efficiency will be drastically improved.
Google (GOOG) too struck a similar partnership with CME Group (CME), which is the world's largest derivatives exchange.
These recent efforts by global exchanges indicate the need for a technological upgrade in capital markets. Big tech was not going to miss this opportunity.