Microsoft shareholders: Who owns the most MSFT stock?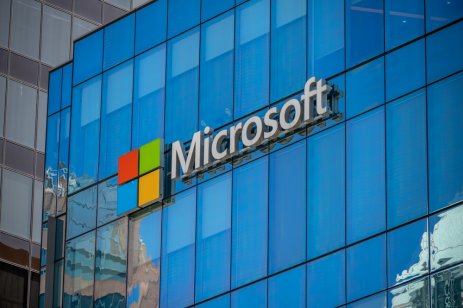 Microsoft stock (MSFT) has lost close to 28% of its value thus far in 2022 as macroeconomic conditions across the world have deteriorated.

Gloomy forecasts from analysts and expectations of an upcoming global recession have weighed on the valuation of tech firms, regardless of how well-established their businesses are.

As of 16 November, MSFT stock was trading around the $242 level, having shed over $100 off its price from the $334 it hit in early January.
Microsoft Corporation (MSFT) Live Stock Price Chart
Who are the top shareholders of Microsoft and how they have been affected by the downturn in the price of MSFT stock? In this article, we slook at the ownership structure of the company founded by Bill Gates.
What is Microsoft (MSFT)?
Microsoft was founded in 1975 by Bill Gates and Paul G. Allen. Their goal was to create an operating system and programming language that could power what we know today as a personal computer.
The first product created by Microsoft was MS-DOS, a basic operating system commissioned by IBM (IBM). Decades later, the company's flagship operating system, Windows, powers around 76% of the world's PCs, according to Statcounter.
However, Microsoft's business interests have diversified significantly since it was founded. Currently, the firm generates revenues from 3 business units:
Productivity and Business Processes: includes all revenues generated by the company's software such as Office 365, Microsoft Teams and some of its web acquisitions like LinkedIn.

Intelligent Cloud: includes Microsoft's server products and enterprise services via its Azure cloud-storage solution.

More Personal Computing: includes Microsoft's Windows revenues and income generated by its gaming and web search divisions.
During the first quarter of the 2023 fiscal year, Microsoft generated total revenues of $50.12bn, most of which came from the Intelligent Cloud segment of the business, which accounted for 41% of the company's top line.
As of 30 June 2022, Microsoft employed 221,000 people on a full-time basis. More than half of these workers were based in the United States. The company's current CEO is Satya Nadella, who was appointed to the position in February 2014. Nadella is also the company's Chairman of the Board.
Microsoft went public in 1986. The stock is listed on the Nasdaq Stock Exchange under the ticker symbol 'MSFT'. It is also listed in many other markets across the globe, including the Milan, Buenos Aires, and Mexican stock exchanges.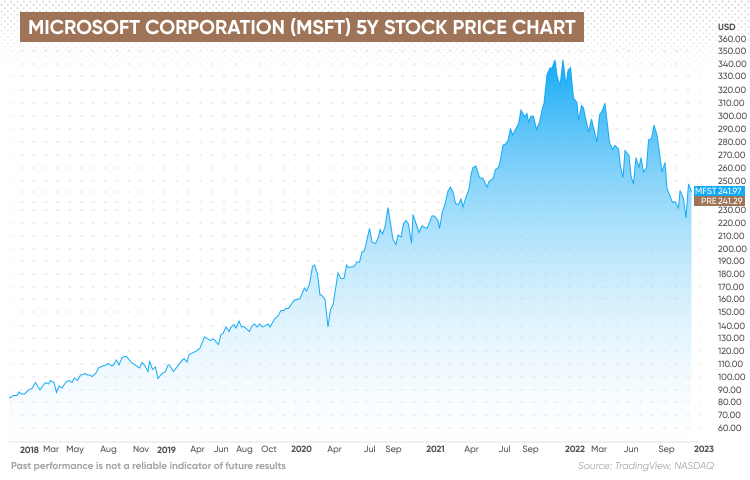 In the past 10 years, Microsoft stock delivered gains of 978.3%, outpacing America's leading stock indices. During that same period, the Nasdaq 100 Index (US100) and S&P 500 Index (US500) generated gains of 363.5% and 190.8%, respectively.
What is your sentiment on MSFT?
Vote to see Traders sentiment!
Who owns the most shares of Microsoft?
According to Microsoft's latest annual report filed with the US Securities and Exchange Commission (SEC), 86,465 stockholders of record held the company's Class A common stock, as of 25 July 2022.
Based on data from MarketScreener, the top five Microsoft shareholders are brokerage firms that hold the stock on behalf of their customers or within the investment vehicles they manage. The list includes The Vanguard Group, Capital Group, and State Street.
Meanwhile, the most prominent individual stockholder is Bill Gates, who owned 102.99 million Class A common shares, as of 16 November, corresponding to a 1.38% stake in the company.
All Microsoft shares have voting rights, meaning that all Microsoft shareholders have a saying in the company's affairs in correspondence with the number of shares they own.
Individuals who buy Microsoft stock through a broker can appoint them as a proxy, meaning that the broker can vote on their behalf. However, they can also opt to cast a vote on the company's key decisions at Microsoft shareholders meetings.
List of Microsoft's biggest shareholders
Institutional investors
The Vanguard Group – 8.01%
The Vanguard Group is one of America's largest asset management firms, overseeing more than $8trn for its customers, as of 30 September. The company offers an ample portfolio of actively and passively managed investment products such as exchange-traded funds (ETFs) and mutual funds, many of which hold Microsoft stock to mimic the performance of the indexes they track or as part of the scope and reach of each fund. In addition, MSFT shareholders may hold the stock in a Vanguard account via the company's proprietary self-trading platform. In these cases, Vanguard will be listed as custodian.
The Capital Group – 7.46%
The Capital Group is a well-established global investment firm that oversees more than $2trn in assets for its customers, as of June 2022. The company offers access to a large number of investment vehicles that may hold Microsoft stock as part of their inherent methodology. Some of these vehicles include tech-focused and equity-focused mutual funds and ETFs that may either focus on US-listed instruments only or a mix of domestic and foreign stocks. (source)
State Street is a financial services company based in the United States that offers an ample range of investment vehicles, including exchange-traded funds (ETFs) that track the performance of certain popular broad-market, sectorial and geographical indexes. These products are offered via the State Street Global Advisors subsidiary, which is the firm listed among Microsoft major shareholders.
T. Rowe Price is an asset management company with a presence in over 52 countries. As of 31 October, it oversaw approximately $1.28trn in assets for its customers. The firm's products and services cater to an ample range of customers going from prospective retirees to institutional clients and financial advisors. Some of the funds offered by T. Rowe Price may hold MSFT shares as part of their strategy. This is the reason why the company is listed among Microsoft biggest shareholders.
Fidelity Management & Research – 2.20%
Fidelity is one of America's leading financial institutions. Among its business activities, the asset management division has created several investment vehicles that hold Microsoft stock as part of their strategy or to mimic the performance of the benchmark they track. As of 30 June, this division oversaw $3.74trn in assets. In addition, Fidelity's customers could hold Microsoft stock via its self-directed trading platform.
Microsoft major shareholders among insiders
The following individuals are considered the largest shareholders of Microsoft among the company's insiders, according to data from GuruFocus. This list includes the firm's top executives, members of the Board of Directors and the company's founder, Bill Gates.
Bill Gates – 102,992,934 shares

Satya Nadella – 799,152 shares

Heung-Yeung Shum – 684,646 shares

Bradford L. Smith – 641,946 shares

Amy E. Hood – 479,324 shares
These shares have been granted to insiders by the company via stock options as part of their compensation package. Bill Gates has owned a sizable stake in the firm since he founded it.
Bill Gates founded Microsoft along with Paul Allen back in 1975. He was the firm's Chairman of the Board and CEO for decades until he handed over the reins to Steve Ballmer. Gates is reportedly the 3rd richest man in America and the 4th wealthiest individual in the world, according to Forbes, with an estimated net worth of $104.2bn.
Mr. Nadella is the Chairman and CEO of Microsoft. He has occupied the top seat on the firm's Board since June 2021 and became the CEO in February 2014. He occupied several positions at the firm before stepping into his current role, having joined Microsoft in 1992. He also serves on the Board of Directors of Starbucks.
Dr. Shum was Microsoft's Executive Vice President of Artificial Intelligence & Research Group. He was named Emeritus Researcher at Microsoft Research after working 23 years at the company. Shum is a prominent scholar in the field of computer science and advanced systems. He occupied several positions at the firm before retiring.
The bottom line
While a firm's shareholder makeup may provide valuable insight into a company's performance, it should not be used in place of your own research. Always do your own due diligence before trading or investing, looking at the latest news, a wide range of analyst commentary, and technical and fundamental analysis on the stock.

Keep in mind that past performance does not guarantee future returns. And never trade or invest more that you cannot afford to lose.
FAQs
How many Microsoft shares are there?

According to the latest quarterly earnings report from Microsoft, the company had a total of 7.49 billion shares on a fully diluted basis. Meanwhile, data from MarketBeat, as of 16 November, indicated that the number of outstanding shares stood at 7.45 billion.
How many shareholders does Microsoft have?

According to Microsoft's latest annual report filed with the US Securities and Exchange Commission (SEC), 86,465 stockholders of record held the company's Class A common stock as of 25 July 2022.
Who owns the Microsoft company?

The top five shareholders of Microsoft are brokerage firms. They hold the stock in many of the investment vehicles they offer or as custodians for the customers that use their proprietary trading platforms.

The largest individual stockholder of the company is Bill Gates, who owns 1.38% of the total common shares in circulation.