Micron Technology (MU) up 7% on raised outlook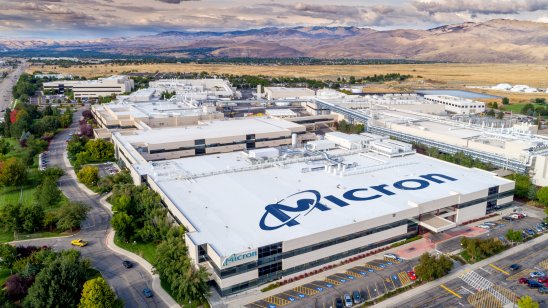 The stock of global semiconductor manufacturer Micron Technology (MU) shot up more than 7% to $87.63 after the company raised its outlook in its first quarter 2022 earnings statement.
Over the last six months, the stock has gained more than 6% in value and is up more than 10% so far in 2021.
Earnings details
According to the Boise, Idaho-based company's earnings, it brought in $7.69bn (£5.82bn) in revenue compared to the $5.7bn it earned during Q1 2021.
The company also reported net income of $2.31m, or $2.04 per diluted share compared to analysts' estimates of $2.11 per share, according to 28 analysts surveyed by Yahoo Finance.
Micron also reported a cash flow of $3.9bn compared to the $3.8bn in cash it held last quarter and the $1.97bn in cash it held at this time last year.
It also reported repurchasing more than 3.6 million shares of its stock for $259m.
Micron CEO Sanjay Mehrotra credited "strong product portfolio momentum" for the company's performance.
"We are now shipping our industry-leading DRAM and NAND technologies across major end markets, and we delivered new solutions to data centre, client, mobile, graphics and automotive customers," Mehrotra said.
"As powerful secular trends including 5G, AI, and EV adoption fuel demand growth, our technology leadership and world-class execution position us to create significant shareholder value in fiscal 2022 and beyond," Mehrotra said.
Lehi, Utah Fab and 3D XPoint
Micron also ended three business ventures in Q1 that the company said will "further strengthen our focus on memory and storage innovations for the data centre market."
The company ceased development of 3D XPoint technology during the quarter, which it then sold to Texas Instruments for $893m on 22 October. The deal included Micron's Lehi manufacturing facility.
In all, the deal helped Micron dispose of nearly $1bn in assets, with most of the assets consisting of property, plant and equipment, the company said.
Outlook
Looking ahead to Q2, Micron expects to earn approximately $7.5bn in revenue and report diluted earnings per share of $1.83.
The company's revenue outlook is more than $200m above its previous estimates while its EPS outlook is more than $.10 per share greater.
Read more: Micron all-in on chips over next decade