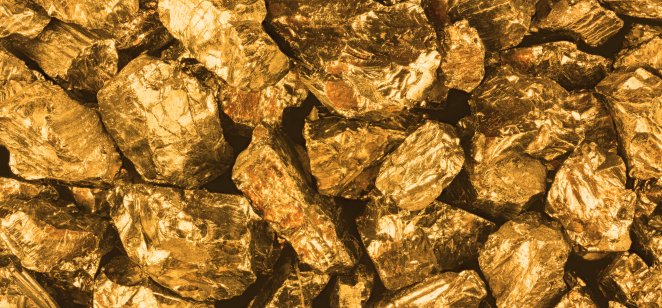 Content
Precious metals were fairly mixed on Friday morning with the Bank of England implementing the biggest interest rate hike in 27 years, while also signalling that the UK economy would be in recession in the fourth quarter this year.
This caused gold to shoot to a one-month high of about $1,790 per troy ounce following the announcement, with the BoE also expecting inflation to hit 13% in October and the following recession to last over a year. Gold has eased somewhat to about $1,780 per troy ounce since then amid as US dollar (DXY) ticked higher.
Gold: trend reversal after channel and 50-dma breakouts?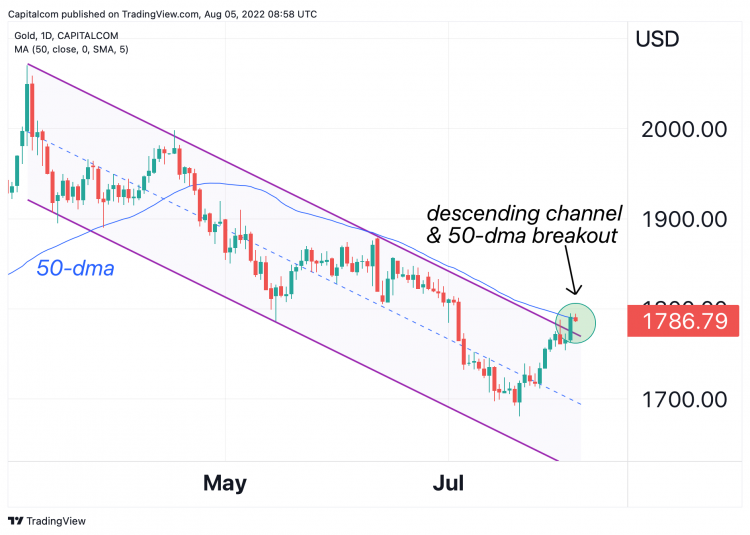 Gold recently saw a 50-dma and channel breakout – Credit: TradingView
According to Piero Cingari, analyst at Capital.com, "Precious metals are gaining price momentum, with gold reaching 4-week highs and breaking above the 50-day moving average for the first time since late April. Treasury yield declines and a weaker dollar (DXY) drove the precious metals recovery lately, as the market thought the Fed's aggressive front-loaded rate hikes would lead to a sharp economic slowdown later, forcing the Fed to stop or cut rates down the road.
Few, however, noticed that the BoE explicitly stated that "there is a risk that a longer period of price inflation will lead to more persistent domestic price and wage pressures."
In essence, the most likely macroeconomic backdrop in the upcoming months for major economies will be a recession coupled with persistent inflation, or so-called stagflation. Gold has historically performed well in this economic environment"
What is your sentiment on GDX?
Vote to see Traders sentiment!
Metals price performance
Silver on other hand, traded mostly flat at about $20.1 per troy ounce, but still rallied about 8.75% since the last three weeks.
Platinum advanced 0.9% to $935 per troy ounce, rising about 3.3% since the beginning of the month, following recent data showing that China's passenger car sales maintained good growth in July. This also boosted palladium, which rose 2% to about $2106 per troy ounce, having risen about 10.4% this month.
Copper was doing slightly better, inching up 0.6% to $3.4 per pound, boosted by technical buying, but was still down about 2.46% this week, breaking a 2-week rally. Iron ore also rose from about 744 CNY per tonne in the previous trading session, to about 767 per tonne on Friday morning. Aluminium also increased 1.2% to $2431.5 per tonne.
The US dollar (DXY) inched up from $105.7 in the previous session to about $105.9, in anticipation of the release of the US jobs data, due to be released later in the day. The US Treasury yields inched up 1 basis point to 2.6%.
Top mining ETFs and mining stocks
The Van Eck Gold Miners ETF (GDX) inched up over 10% in the last 10 days
The Van Eck Gold Miners ETF (GDX) was up in the last session, increasing from $26.08 to $26.78, with an increase of almost 10% in the last 10 days, as gold saw boosts from safe haven demand.
The Van Eck Junior Gold Miners ETF (GDXJ) also saw a similar raise, increasing from $33.4 in the last session to $34.4, also soaring about 18.5% since mid-July. The S&P Metals and Mining ETF (XME)also inched up from $47.5 in the previous trading session to $48.2.
Glencore (GLEN) inched up 0.7% to $4.6, rising about 13.5% in the last week, following the company announcing a record profit of about $18.9 billion due to rising coal prices.
Rio Tinto (RIOgb) rose 2.35% to $97.5, with a weekly rise of about 3.9%, following the company signing a major deal regarding the Simandou iron ore mine in Guinea.
Anglo American (AALI) advanced 1.5% to $28.9, soaring about 14% in the last week, following a 9% potential upside signalled by Barclays (BARC).
Antofagasta (ANTO) edged up 1.2% to $11.4, jumping more than 10% in the past week, in anticipation of the company releasing its half-yearly results next week.
Today's market moving events
The US unemployment data for July is due to be released later in the day, with expectations of it remaining the same as last four months, at 3.6%, for the fifth consecutive month.
The US Non-farm payroll data for July is also due to be out today, with the consensus being about 250,000 but forecasts touching about 290,000. June saw non-farm payrolls hit 372,000.
Read more...