Market close: Government avoids shutdown but shares close lower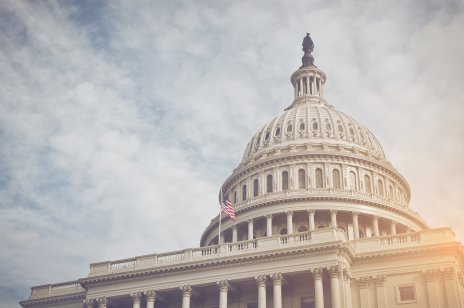 The Dow and S&P 500 closed the month lower on Thursday as the market stood by awaiting news out of Washington about whether a funding bill would pass to avoid a US government shutdown.
Congress was racing against a midnight deadline but both the Senate and the House of Representatives passed a spending bill to extend federal funding through early December. The bill now goes to President Joe Biden to sign.
Had Congress not passed the continuing resolution, many "non-essential" federal government functions would be suspended, and many, though not all, federal employees would be furloughed. If shutdowns continue for a prolonged period, the US risks defaulting on its loans.
Dow, S&P, Nasdaq close down
At market close, the Dow Jones Industrial Average fell 546 points, or 1.59% to 33,843.92 and the S&P 500 declined 1.19% to close at 4,307.54. The Nasdaq had been trading in the green for much of the day but a late market move had the tech heavy index closing down 0.44% at 14,448.58.
The 10-year Treasury rate moved lower on Thursday after five consecutive trading sessions of moves higher for the benchmark rate. Treasuries at the 10-year rate closed at 1.52%, down three basis points from Wednesdays' close at 1.55%.
With the calendar turning to October on Friday, the Dow and S&P 500 closed September 4.8% and 4.7% lower month over month, respectively. Likewise, the Nasdaq fell 5.3% on the month.
Thursday's gains and losses
Human resource, payroll and benefits company Paychex was the biggest winner on the day as its shares moved more than 4% higher following the release of its latest quarterly results. The release included a raise in its full-year earnings guidance to revenue growth of 8% year over year up from earlier estimates from June of 7% growth.
However, it was a day where the losses were bigger than the gains. Used vehicle retailer CarMax closed more than 12.5% lower after its fiscal second-quarter earnings did not meet investor expectations.
Similarly, supply chain issues weighed on retailer Bed Bath & Beyond, leading to a more than 6.5% drop in its share price to $63 per share. Not only did Bed Bath & Beyond miss analyst expectations for the quarter, but it also lowered its full-year earnings estimates, now expecting adjusted EPS of $0.70 to $1.10, down from previous estimates in a $1.40 to $1.55 range.
Global markets
In Asian markets, the Shanghai Composite is 0.9% higher while Tokyo's Nikkei 225 is 0.31% lower.
Meanwhile, the pan-European Stoxx 600 index was down just 0.05% on the day. Canada's S&P / TSX Composite ended the day down 0.44%.
Read more: No time to buy: Here are 43 James Bond investments