Market close: Dow notches milestone finish, Tesla shares soar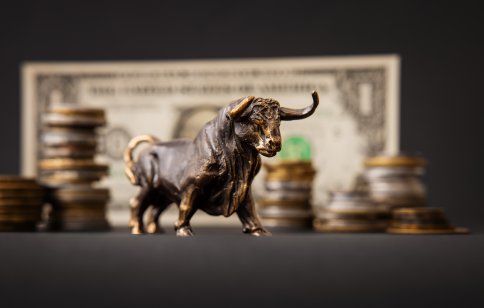 The Dow added over 70 points in trading on Friday, pushing the Blue-Chip index to a new closing record.
By the close of Friday's session, the Dow added 74 points, or 0.2% to 35,677.08, posting its first record close since 16 August.
The S&P 500 went down 0.2% 4,544.90 a day after the benchmark closed at a record
The S&P 500 edged lower by 0.02% to 4,544.90 a day after the benchmark closed at a record, as the Nasdaq Composite went down 0.8% to 15,090.20.
Despite Friday's mixed results, the major averages are on track to close the week higher.
On Thursday, the S&P 500 hit a new intraday high and record close, while the Dow touched notched its own mid-day record earlier in the week.

On the month, the S&P and Dow are up 5% while the Nasdaq is up 4%.
Friday's winners and losers
Shares for Tesla are up 1% after hitting a new intraday high. Following Thursday's session, shares for the electric vehicle maker closed 3% higher after posting record profit and revenue for the third quarter.
Shares for Netflix are up 0.4%, while shares for Snap are down over 25% after the social-media company said changes to Apple's privacy rules would stall its ad revenues.
Shares for Facebook and Twitter both dropped 6% and 4%, respectively during trading on Friday.
Following a 10% drop at mid-day, shares for Intel sank another 1% by the close of today's session. The company recently reported weaker-than-expected sales.
Shares for American Express are now up 5.5% after the company posted a rise in earnings and exceeded analysts' predictions.
In assets, the yield on the 10-year Treasury note rose to 1.654% on Friday, from 1.574% last week.
What is your sentiment on META?
Vote to see Traders sentiment!
Global markets
The pan-continental Stoxx Europe 600 rose 0.5%, while in Asia, Japan's Nikkei 225 rose 0.3%, and the Hang Seng Index rose 0.4%.
On mainland China, the Shanghai Composite Index fell 0.3%.
Read more: Crude futures climb for 9th straight week
The difference between stocks and CFDs:
The main difference between CFD trading and stock trading is that you don't own the underlying stock when you trade on an individual stock CFD.
With CFDs, you never actually buy or sell the underlying asset that you've chosen to trade. You can still benefit if the market moves in your favour, or make a loss if it moves against you. However, with traditional stock trading you enter a contract to exchange the legal ownership of the individual shares for money, and you own this equity.
CFDs are leveraged products, which means that you only need to deposit a percentage of the full value of the CFD trade in order to open a position. But with traditional stock trading, you buy the shares for the full amount. In the UK, there is no stamp duty on CFD trading, but there is when you buy stocks.
CFDs attract overnight costs to hold the trades, (unless you use 1-1 leverage) which makes them more suited to short-term trading opportunities. Stocks are more normally bought and held for longer. You might also pay a stockbroker commission or fees when buying and selling stocks.