LKP ups Ashok Leyland's (ASHOKLEY) price target by 8%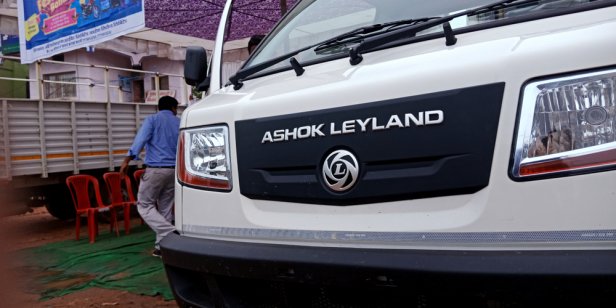 Indian brokerage firm LKP Securities has raised its 12-month price target for Ashok Leyland, India's second largest manufacturer of commercial vehicles. The target has been lifted by 8% to INR164 ($2.13) citing a pickup in demand in tandem with the country's economic recovery. The brokerage held the "buy" recommendation on the stock.
"We expect strong momentum in medium and heavy commercial vehicle (MHCV) volumes in line with the economic recovery, improved traction in infrastructure and mining activities, construction activities led by opening up of economy and lower Covid numbers hereon as the Wave #2 is on its lower trajectory. As the market has started to open up, we see the truck numbers moving up further," Ashwin Patil, analyst at LKP Securities told Capital.com.
Ashok Leyland reported a narrowing of losses to INR832m in the July-September period, compared to a loss of INR2.8bn over the preceding three months and losses of INR1.45bn in the corresponding quarter a year ago. The reduction was helped by volume growth.
Realisations in the latest quarter were up 20.3% year-on-year, but virtually flat compared to the previous three months due to price increases in the April-June period and a shift in the company's product mix towards high-margin light commercial vehicles.
Outlook predicts increased demand
"We saw demand for tippers and multi-axle vehicles moving up in Q2 followed by haulage vehicles and tractor trailers," Patil added. "The demand for buses is also expected to recover with possible opening of schools, colleges and offices in the second half of the year. With a good monsoon, reservoir levels being full and macro parameters remaining intact, we expect rural India to recover. We therefore expect a stronger and sharper rise in demand in H2 of FY22 and to record 18%-30% growth in MHCV business in FY22E/23E respectively."
Ashok Leyland's transition to manufacturing electric vehicles (EVs) has also moved on a step as the company transferred its EV business to Switch Mobility, its wholly owned, step-down subsidiary.
The company's market share fell in some regions, but was compensated by increased market growth in the light commercial vehicle (LCV) segment as a result of the recent launch of two models: Bada Dost and Avatar. Despite a rise in input costs, volumes surged during the quarter resulting in higher capacity utilisation, which in turn led to an increase in margins to as high as 3%. Expenses as a percentage of sales were also lower – down to 11.3% from 12.8% a year ago, helping the company cut losses.
Increased sales across all CV sectors
Patil also said that the second wave of the coronavirus pandemic in April put a dent in the company's smooth recovery. This aberration was reflected by the business recovery in the July-September quarter as the macroeconomic factors remained intact. A good monsoon and higher influx of infrastructure projects may drive demand further as the pandemic continues to ebb.
According to Patil, some of the company's high-margin vehicles launched recently in the LCV segment have already acquired a near-23% market share. He pointed that as online buying increases, LCVs are finding demand for last-mile transportation. The LCV segment is seen as adding operating synergies and providing cost benefits to the company in a scenario of high input costs.
Data provided by the Federation of Automobile Dealers Associations showed that while overall vehicle sales in the country fell year-on-year in September, commercial vehicle sales were able to buck the trend. LCV sales grew 20.69% YOY in September, MCV sales surged 136.11% and HCV sales were higher by 189%.
Ashok Leyland's total domestic commercial vehicle sales grew 13% year-on-year in September to 10,043 units. Medium and heavy vehicle sales saw a combined rise of 35% while light vehicle sales fell 4%, data provided by the company showed.
Price hike
Ashok Leyland's operating margin in the July-September period improved to 3% – up from -4.7% in the previous quarter and ahead of the corresponding Q3 figure (2.8%) in 2020. This was achieved despite spiralling materials costs, including a hike in steel prices. Its two price increases undertaken between April and September helped reduce losses.
The company told investors that it expects its input costs to fall in the second half of the financial year. LKP's Patil anticipates the company may raise prices again as demand moves up and discounting goes down. The company is also applying stringent cost-cutting initiatives and adding value-added products to their portfolio. In addition, improving demand for higher tonnage trucks, haulage, defence orders and the LCVs all augur well for margins.
"With economic revival on the anvil, we expect input cost pressures to ease pressure on margins as operating leverage plays out. We expect 5.3%/10% margins in FY22E/23E," Patil said.
Shares of Ashok Leyland closed 0.95% lower at INR145.7 on the National Stock Exchange.
Read More: Indian bank-brokers earnings outpace rivals: ICRA