Kellogg posts happy earnings based on popularity of snacks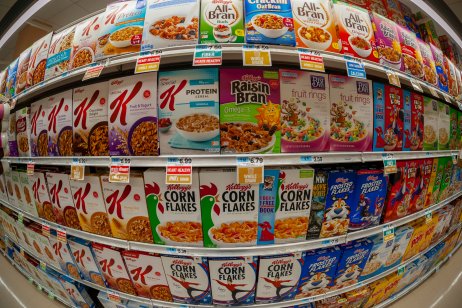 Kellogg tinkered with its currency-neutral adjusted earnings growth guidance for 2021 during its second quarter, company officials said Thursday.
During an investors' conference call, the company said for fiscal 2021, it now forecasts a currency-neutral adjusted earnings per share growth of about 1% to 2% on flat to 1% organic net sales growth.
Prior to the call, the Battle Creek, Michigan breakfast cereal and snack maker expected currency-neutral adjusted earnings growth of about 1% to 2% per share on about flat organic net sales growth, according to their release.
Kellogg said the adjustment reflects "underlying business momentum" and affirms guidance for operating profits, earning per share and cash flow reflecting the higher cost of doing business.
Second quarter results
Q2 net sales increased by 3% to $355m or $1.11 per share higher than the $351m or $1.02 per share during Q1 2021.
The adjusted earnings decreased by 8% to $1.14 per share. At noon Thursday, the shares were trading at $62.93, up $0.43 from opening price.
Net sales for Q2 grew 2.6$ to $3.56bn from $3.47bn in the same quarter last year. Organic net sales slipped down 0.4%.
Chief executive officer Steve Cahillane said expectations of their supply chain and cost "headwinds" caused Kellogg to adjust the bottom-line.
"We delivered these results amid a challenging business environment that included pervasive shortages of materials, freight and labour, and accompanying cost inflation. By executing our strategy, we remain on track to deliver our full-year guidance even as these conditions persist," he said.
What is your sentiment on K?
Vote to see Traders sentiment!
Mixed worldwide sales
Sales in the US and Canada counted for more than 2,000 million, down about 7% from the same time last year. Additionally, organic sales slipped 8% largely due to "tough comparison" with year over year high growth.
In Europe, revenues were up approximately 13% year over year, to $168m. Organic sales rose 3%, backed by strong snack sales in Europe and Russia.
Latin America witnessed a year over year growth of 19% in revenues to $266m, mainly due to positive currency movements and organic sales, up 9%, thanks to snack sales.
In Africa, Asia and the Middle East, revenue jumped by roughly 24%, to $658m, fuelled by organic sales growth.
Cash flow
Kellogg ended Q2 with cash and cash equivalents of $395m with long-term debt of $7,029m and total equity of $3,880m.
In the year-to-date period ended 30 June, Kellogg cash generation from operations was $687m. Net cash created by operating activities for 2021 was estimated between $1.6bn to $1.7bn.
Trade Kellogg - K CFD