Kansas City Southern agrees to merge with Canadian Pacific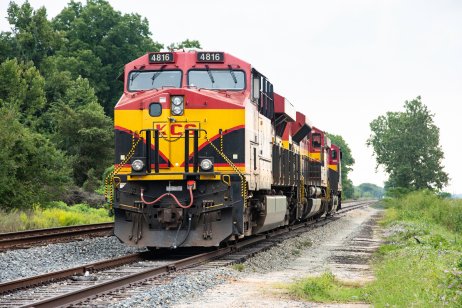 Kansas City Southern (KCS) has terminated a planned tie-up with Canadian National Railway (CN), clearing the way for a $31bn (C$39.2bn) merger with rival Canadian Pacific Railway (CP). The move will create the first single-line rail network linking the US, Mexico and Canada.
KCS agreed Wednesday to combine with CP under the terms of CP's revised 10 August offer. Canadian Pacific will pay $300 per share for each share of KCS common stock held, comprising $90 in cash and 2.884 CP common shares.
The purchase includes the assumption of $3.8bn of KCS debt by CP.
CP will issue 262 million new shares to help fund the deal. The Canadian railroad will also raise $8.5bn in debt, for which financing has already been committed.
The transaction is expected to close in the first quarter of next year.
$700m termination fee
Kansas City Southern will pay $700m to walk away from its deal with Canadian National, agreed upon 21 March. CN said it was "disappointed" by the decision but the right move for its shareholders was to not pursue the matter any further.
Bidding war ends
The agreement with Canadian Pacific apparently ends a bidding war that began in March when CP and KSC announced an agreement by CP to acquire KSC for $275 per share, comprising $90 in cash and 0.489 CP share for each KCS common share held.
CN topped that in May with a $325 per share offer, comprising $200 in cash and 1.129 shares of CN common stock for each KCS common share. The offer implies an enterprise value of $33.6bn, including assumption of approximately $3.8bn of KCS debt.
KCS and CN on 21 May entered into a merger agreement.
Canadian Pacific raised its original offer on 10 August to $300 per share.
STB rejects Canadian National's plan
Canadian National's bid stalled when the US railroad regulator – the Surface Transportation Board (STB) – on 31 August rejected CN's plan to temporarily transfer ownership of KCS to a "voting trust" while the STB vets the acquisition. The STB said the proposed voting trust was "not consistent with the public interest standard under the board's merger regulations."
CP's proposed acquisition of KCS also includes a voting trust. However, that trust already has the STB's approval, according to Canadian Pacific.
Read more: Canadian railway makes bid for US line, sending shares upward