It's a steep road back from the pandemic for DavidsTea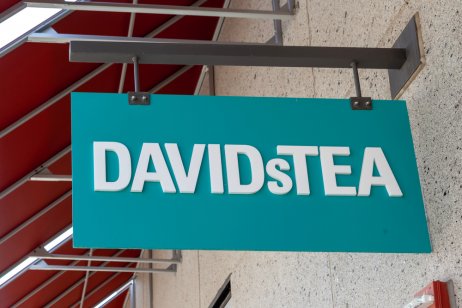 Like many businesses, the pandemic dropped DavidsTea into hot water, and emerging from its ripple effect hasn't been an easy feat for the Canadian tea purveyor.
The company reported its fiscal third-quarter earnings for fiscal 2021 on 14 December, revealing that sales for the three months that ended 30 October dropped by $4m (£2.35m) to $22.2m year-over-year, a 15.3% decrease. The company went from reporting a net income of $14.47m after the 2020 third quarter to incurring a net loss of $1.86m for Q3 this year.
The company is headquartered in Montreal, Quebec, so the sums that appear in this story are quoted in Canadian dollars.
200 stores closed
In March 2020, DavidsTea closed more than 200 retail stores because of the Covid-19 pandemic. That included 166 Canadian locations and 42 stores on the US side. The company sought bankruptcy protection under the Companies' Creditors Arrangement Act (CCAA), a Parliament of Canada statute that enables insolvent corporations that owe creditors more than $5m to restructure their businesses. DavidsTea subsequently filed a restructuring plan and reopened 18 retail locations in August of last year.
On a conference call with investors on 14 December, executives from DavidsTea said they were encouraged by the fact that sales this past quarter were up 18.5% from the quarter immediately preceding, with CEO Sarah Segal calling that figure "a better measure of our progress since we began our transformation into a digital-first tea merchant."
Expanding e-commerce
Frank Zitella, who is DavidsTea's president, and its chief financial and operating officer, said that "going forward, our growth strategy rests upon continuing to invest in our online presence, improving the customer experience by building world-class fulfillment capabilities, expanding relationships with wholesale partners and leveraging the store-in-store concept."
E-commerce and wholesale sales made up 77.1% of DavidsTea's sales, compared to 84.3% of sales in the prior year quarter. DavidsTea is sold in more than 1,200 Loblaw grocery and pharmacy storefronts.
"On a sequential basis, we are pleased by our sales momentum and customer traction in the first seven weeks of the fourth quarter," Zitella said. "This is supported by a strategic increase in inventory levels in anticipation of a strong holiday period and to mitigate ongoing global supply-chain issues, while maintaining a solid financial position."
DavidsTea had working capital of $42.3m at the end of October 30, compared to $62.7m on January 30. The company said the decrease occurred because of $17.6m paid for settlement obligations under the restructuring plan sanction order.
Read more: B2B network creator Corcentric makes deal to trade on Nasdaq