IronNet shares soar on Reddit interest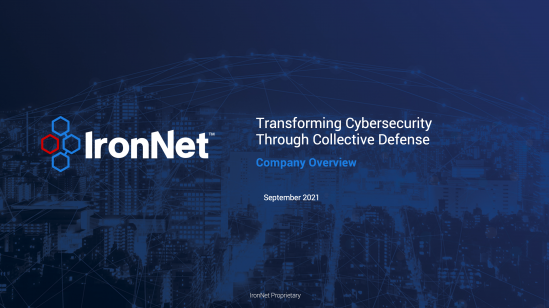 Shares in cybersecurity firm IronNet soared as high as 142% in pre-market trading Tuesday, as retail investors from social media website Reddit may have found a new target.
As at 11 am EDT on the NYSE, IronNet (DFNS) shares were up 62% at $27. Earlier Tuesday, shares rose up as much as 142% to $39.99 in pre-market trading. The company's shares closed at $16.52 last Friday.
IronNet provides cybersecurity using artificial intelligence (AI) and is staffed by many former National Security Agency (NSA) cybersecurity professionals. This should come as no surprise as IronNet was founded in 2014 by Keith Alexander, a retired four-star US Army general who was the director of the NSA from 2005 to 2014.
Network detection and response services
The company provides network detection and response services powered by behavioural analytics. IronNet has partnerships with companies such as CrowdStrike, Palo Alto, Splunk, Amazon Web Services and Microsoft Azure to ensure its services can integrate with diverse corporate IT networks and ecosystems, some of which may be hosted in the cloud while others could be hosted on company premises.
IronNet listed on the NYSE in late August after a $927m SPAC deal with LGL Systems Acquisition. SPACs are shell companies that raise funds to acquire private companies with the goal of taking them public. In 2020, SPAC deals raised $79.9bn.
The source of retail investor interest on social media site Reddit may be this post on an individual user's account which explains how IronNet stock may be a "gamma squeeze" candidate following its SPAC deal.
Gamma squeeze
A gamma squeeze happens when a share price rises in a very brief amount of time. A higher amount of money in call options (which bet on a share price rise) results in increased buying activity and can push a share price higher.
Since the original post was published five days ago, it has been re-submitted to other parts of Reddit – known as subreddits – increasing its visibility.
Intense retail investment interest has been seen in shares such as Gamestop and cinema chain AMC from subreddits such as wallstreetbets and superstonk. Shares that attract Reddit investor attention are known as "meme stocks".
Read more: Cybersecurity summit sparks investment hopes