Iron ore prices rise on Vale's output guidance cut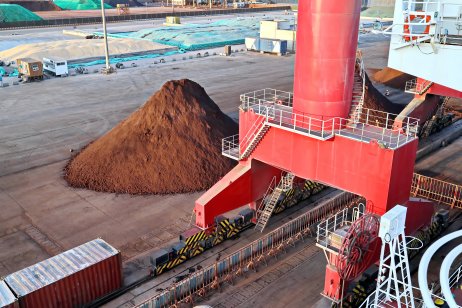 Iron ore prices climbed above $100 after Brazilian miner, Vale SA, lowered its iron ore outlook for this year.
Iron ore futures for January delivery at the Singapore Futures advanced 3.07% to $105.2 per tonne on Wednesday. Spot iron ore price rose to $102.53/tonne on Tuesday, from $94.71/tonne the previous day.
Seaborne iron ore with 62% iron increased 3.28% to $105.6/tonne, cost-and-freight China's Qingdao port on Tuesday, according to Tuesday's data from the Shanghai Metal Market (SMM).
Vale unexplained output cut
"Iron ore futures bucked the trend, with futures holding steady after the world's second largest producer lowered its production guidance," analysts at ANZ Research said in a note on Wednesday.
On Monday, Vale lowered lowered its iron ore output ceiling for 2021 to 320 million tonnes, from 335 million tonnes in July. The company did not explain the reason for the downward revision.
In China, iron ore futures were tight as shipments of overseas iron ore dropped, while demand climbed.
Chinese iron ore imports drop
"The total arrivals of imported iron ore dropped significantly from the prior week. The combined shipments from Australia and Brazil also declined," SMM said in its note.
SMM said that weekly shipments of iron ore from Brazil to China was estimated to drop by 0.23 million tonnes to 4.95 million tonnes. Shipments of iron ore from Australia is estimated to drop by 0.43 million tonnes to 18.46 million tonnes from the previous week.
Meanwhile, blast furnaces in China have resumed production after some steel mills completed the crude steel production control target.
"The near-term iron prices will gain comparatively support from various bullish news," said SMM.
Read more: China's steel output curb likely to extend to March 2022