Investors devour Portillo's shares in IPO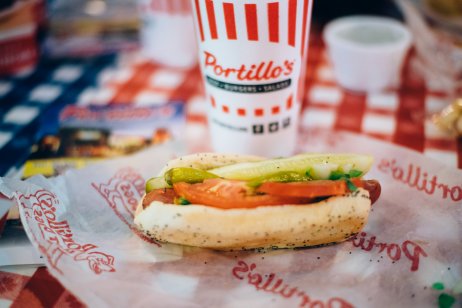 Investors devoured Portillo's shares on Thursday as the Chicago street food chain began trading.
Portillo's stock sizzled from the outset as its share price skyrocketed more than 53%. Morning trading volume approached nine million shares and the total approached 11 million in the afternoon.
Portillo's shares rose above $28 after the company said in a news release that it priced its IPO at $20. The company sold 20.27 million shares of its common stock. Underwriters were granted an over-allotment of about three million shares.
Jefferies, Morgan Stanley, BofA Securities and Piper Sandler were all part of the underwriting group for the offering. Shares began trading on the Nasdaq under the ticker PTLO.
History and future
Investors accrued a 28% stake in Portillo's through the offering, but the company remained under the control of private equity firm Berkshire Partners.
Portillo's edibles include hot dogs and sausages, which are available in 67 locations as of the end of June. The company plans to expand to more than 600 restaurants, according to its IPO registration statement.
Berkshire Partners purchased Portillo's in 2014 from its founder Dick Portillo, who began with an investment of around $1,000. The investment company paid around $1bn for the brand. In its registration statement, Portillo's said it has never closed a restaurant and all locations are profitable.
Financials
Revenue for the first half ended 27 June was $258m, up 18.8% year over year.
Net income was $13.9m compared with a loss of $733,000 in the first half of 2020.
Adjusted EBITDA was $51.1m, up from $37.9m.
The company's margin improved to 19.8% from 17.4%.
Read more: Chicagoland icon Portillo's is going public
The difference between stocks and CFDs
The main difference between CFD trading and stock trading is that you don't own the underlying stock when you trade on an individual stock CFD.
With CFDs, you never actually buy or sell the underlying asset that you've chosen to trade. You can still benefit if the market moves in your favour, or make a loss if it moves against you. However, with traditional stock trading you enter a contract to exchange the legal ownership of the individual shares for money, and you own this equity.
CFDs are leveraged products, which means that you only need to deposit a percentage of the full value of the CFD trade in order to open a position. But with traditional stock trading, you buy the shares for the full amount. In the UK, there is no stamp duty on CFD trading, but there is when you buy stocks.
CFDs attract overnight costs to hold the trades, (unless you use 1-1 leverage)
which makes them more suited to short-term trading opportunities. Stocks are more normally bought and held for longer. You might also pay a stockbroker commission or fees when buying and selling stocks.