Intuit, LA Clippers ink 23-year naming rights deal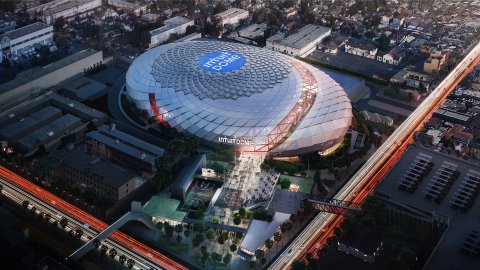 The National Basketball Association's Los Angeles Clippers franchise announced Friday it had reached a naming-rights partnership with software giant Intuit, both companies announced this morning.
The 23-year agreement, estimated by ESPN to total $500m (£363.59), will help offset the roughly $2bn cost of building, ESPN added. The Intuit Dome, which will be located in the city of Inglewood, is breaking ground today and is scheduled to open for the 2024-2025 NBA season.
"Intuit is a perfect fit and we're excited to be calling our future home the Intuit Dome," L.A. Clippers chair Steve Ballmer said in a release. "When we began the search for a partner for the LA Clippers and our new dome, we looked for one that shares our passion for technology, pursuit of innovation and our commitment to customers, fans and community."
Intuit Dome
The LA Clippers Tweeted a rendering of the future 18,000 seat arena, with the message, "Introducing the Intuit Dome. Future home of the LA Clippers." The Intuit Dome has its own Twitter page, @IntuitDome.
As part of the agreement, both the Clippers and Intuit have agreed to invest in the community and estimate $260m of economic activity will be created. In addition to the ancillary jobs associated with a large events arena, Intuit has agreed to invest in the city through its Prosperity Hub School District programme, host taxpayer assistance events for low-income families and hold educational and networking events for local small businesses owners and entrepreneurs.
"Intuit and the Clippers have a history of supporting local communities, and we look forward to investing in and contributing to the Inglewood community to help them prosper," added Intuit CEO Sasan Goodarzi in a simultaneous statement.
Clippers currently share home court
Initially founded as the NBA's Buffalo Braves in 1970, the franchise relocated to San Diego before the 1978-1979 season, settling in LA in 1984. The Clippers currently share a home court with the rival LA Lakers at the Staples Center.
"We needed to say, 'We're our own guys. We don't play in the same place as the other guys. We're going to have our own identity'," Ballmer said during a live interview on ESPN Friday morning. "We're going to build our own building, more of our own identity, more of our own personality. And I think some of the fans on the other side, if you will, it's like, 'What? You dare to question our supremacy?' No, we do."
Read more: Manchester United reports loss as matchday revenues sink