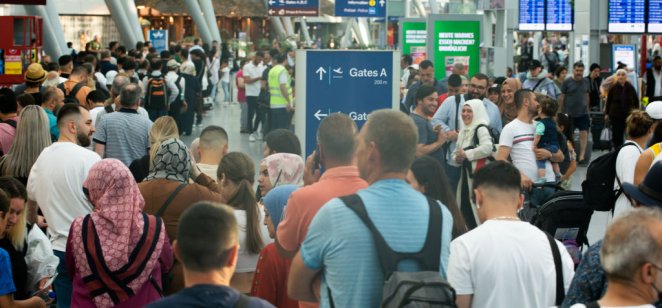 Content
Everybody out! A summer of strikes is set to hit the already beleaguered travel sector. UK rail workers have already planned several days of industrial action, while employees at International Consolidated Airlines Group IAG, which owns British Airways (BA) are planning strikes at Heathrow airport to coincide with the critical summer season. What should travel stocks do? Stump up or hold out?
It seems that this summer will be one of trouble for some travel stocks. Airline operator IAG has already faced huge problems as hundreds of workers voted for industrial action on Thursday. A total of 95% of those who voted said they were prepared to strike, on a turnout of more than 80 per cent. Industrial action dates will be confirmed in the coming days but are likely to be during the peak summer holiday period.
International Consolidated Airlines Group (IAG) share price chart
Workers are not happy: a 10% pay cut that was imposed on them during the pandemic has not been reinstated, despite bosses having their pre-covid pay rates back in place. IAG share price has been down 20% this year and fallen 10% this month.
What is your sentiment on FGP?
Vote to see Traders sentiment!
Workers offered crumbs
The GMB, a trade union which represents employees from the aviation, retail and social care sectors said its members have been given "crumbs."
Nadine Houghton, GMB National Officer, said: "With grim predictability, holiday makers face massive disruption thanks to the pig-headedness of British Airways.
"BA have tried to offer our members crumbs from the table in the form of a 10% one off bonus payment, but this doesn't cut the mustard," Houghton added.
Stressing the fact that their members need to be reinstated with the 10% "stolen" from them in 2021, Houghton said employees of BA should be given backpay, plus a 10% bonus, which other colleagues have been paid.
"GMB members at Heathrow have suffered untold abuse as they deal with the travel chaos caused by staff shortages and IT failures, Houghton said. "At the same time, they've had their pay slashed during BA's callous fire and rehire policy."
The imposed industrial action for IAG will no doubt cause travel chaos and impact its share price.
Travel stocks that may benefit
But it's not all bad. Rail workers have also called several strikes, which will have a knock-on impact on other services and companies, such as the bus operator FirstGroup (FGP).
As commuters divert from trains to the bus, coach operator FirstGroup (FGP) will start to see an increase in travellers. FCP share price has been up 30% this year and 16% this month. FirstGroup (FGP) seems to be benefiting from the current industrial action from UK rail group, Network Rail.
FirstGroup (FGP) share price
Testing time for some travel stocks
The Scotland-based transport provider, FCP also recently rejected a takeover offer from Squared Capital Advisors, saying that the cash component undervalues the company and fails to give shareholders certainty.
The travel sector has been through a testing time over the last two years, from pandemics to strike action, it appears the end is not quite in sight for some travel stocks. However, despite this there are some stocks that may benefit from strike action - FCP being one of them.
Read more