Indian stocks drop amid downbeat regional sentiment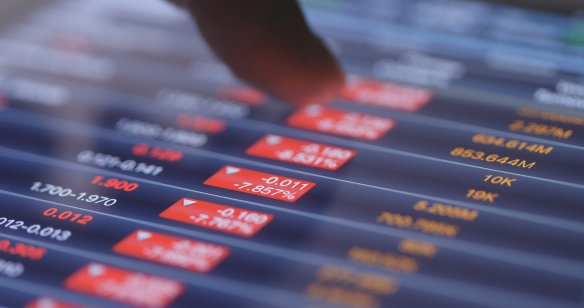 Indian stocks finished lower Wednesday, mirroring the downbeat sentiment that prevailed across most markets in the region. Asian indices were pulled down by news of China's central bank infusing short-term cash into the system for a ninth day.
The National Stock Exchange's Nifty50 index closed 0.21% lower at 17,711.30 points, while the S&P BSE Sensex ended 0.43% lower at 59,413.27 points.
The Nifty PSU Bank index, a basket of 13 stocks including the country's largest lender State Bank of India (SBI), rose 2.72%. Meanwhile, the Nifty Private Bank index, a basket of 10 stocks including Yes Bank, fell 1.08%.
Gainers and losers
The Indian rupee was trading 0.0060% lower to the US dollar, slipping to INR74.20 at 17:46 hours Indian time (UTC+5:30).
On the Nifty, shares of the nation's leading electricity producer NTPC, mining giant Coal India (CIL) and the Power Grid Corporation of India (PGCIL) were the top gainers adding 6.40%, 6.22% and 5.68% respectively.
However, the sub-continent's largest mortgage provider Housing Development Finance Corporation (HDFC), Kotak Mahindra Bank (KMB) and coatings major Asian Paints were the top losers, shedding 2.05%, 1.8% and 1.77% respectively.
On the Sensex, shares of NTPC, PGCIL and drug maker Sun Pharmaceutical Industries were the biggest gainers adding 6.52%, 6.18% and 4.09% respectively.
But, HDFC, KMB and Asian Paints were the biggest losers, dropping 2.04%, 1.75% and 1.72% respectively.
Piramal M&A
Piramal Enterprises has completed the acquisition of Dewan Housing Finance Corporation, by paying off a total of INR342.5bn ($4.7bn) to the latter's creditors in cash and non-convertible debentures, as per a media statement released today.
States in debt
The total debt of Indian states, as measured by debt to gross state domestic product (GSDP), hovers at 33% and is expected to stay at that rate despite the post-Covid recovery.
The ratio rose to a decade high of 34% in the year ended March 2021. Higher expenditure to revive economies after the pandemic, together with the need for higher capital outlay, will keep states' borrowing high this year, ratings agency CRISIL said in a note.
Waaree plans IPO
Waaree Energies, a manufacturer of solar photovoltaic modules, filed draft papers with the markets regulator for an initial public offering (IPO) of its shares.
The company wants to raise INR13.50bn through a fresh issue of shares, as per a web posting by Axis Capital, a banker to the IPO. The issue would also comprise an offer for sale (OFS) of 4 million shares by existing investors.
Read more: India's HCL Technologies gains on multi-year Proximus contract