Indian shares zoom on RBI's accommodative policy stance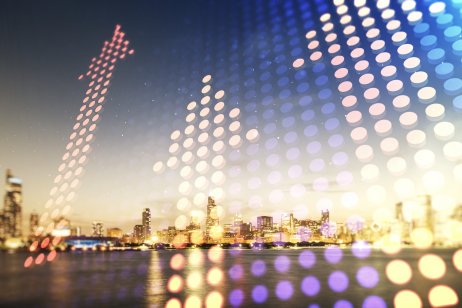 Indian stocks gained the most in over 10 weeks to finish higher on Friday, boosted by the central bank's decision to leave key policy rates unchanged.
The National Stock Exchange's (NSE) Nifty50 index ended 1.71% higher at 17,469.75 points while the S&P BSE Sensex closed 1.76% higher at 58,649.68 points.
All 15 Nifty sectoral indices ended in the green on 8 December.
The Public Sector Undertakings (PSU) Bank index, comprised of 13 lenders including Indian Bank, surged 2.57%
The Media index, a basket of 10 entertainment stocks including multiplex operator Inox Leisure, shot up 2.51%
The Auto index, comprised of 15 automotive stocks including parts manufacturer Bharat Forge, jumped 2.31%
The Indian rupee was trading 0.087% lower to the US dollar, to INR75.47 as of 15:58 hours local time (UTC+5:30).
The Reserve Bank of India lends funds to banks at the 'repo rate'. With today's decision, the benchmark rate has been held at its lowest levels for over nine decision making meetings of the monetary policy committee. The move is expected to further bolster the ongoing economic recovery amid the Omicron virus threat.
On the Nifty50
Shares of lender Bajaj Finance (BAJFINANCE), the country's leading carmaker Maruti Suzuki India (MARUTI) and aluminium manufacturer Hindalco Industries (HINDALCO) were the top gainers, adding 3.62%, 3.19% and 3.14% respectively.
HDFC Life Insurance Company (HDFCLIFE), Kotak Mahindra Bank (KOTAKBANK) and the Power Grid Corporation of India (POWERGRID) were the top losers, shedding 1.17%, 0.78% and 0.34% respectively.
On the Sensex
Stock in BAJFINANCE, MARUTI and State Bank of India (SBIN) were the biggest gainers adding 3.67%, 3.48% and 3.11% respectively.
KOTAKBANK and POWERGRID were the biggest losers, shedding 0.85% and 0.49% respectively.
Omicron fears
"Low vaccine coverage makes India's economy highly vulnerable to the emergence of the Omicron variant," research firm Capital Economics' senior India economist Shilan Shah wrote in a note to clients on 3 December.
"The crumb of comfort is that there is policy space to soften some of the economic blow from a new outbreak. The fiscal position is healthier than usual for this time of year…" he added.
Read more: Indian cloud services firm ESDS gets nod for IPO