Indian shares rise as bulls cheer lower inflation numbers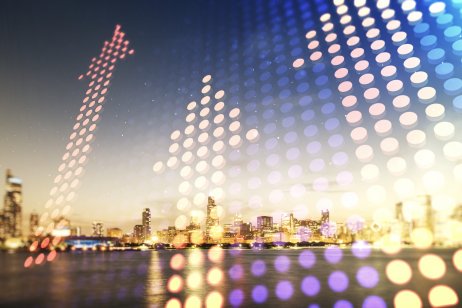 Indian shares rose a sixth straight session Thursday, by their most in three-weeks, with the bullish momentum pushing key indices to record highs after government data showed that wholesale inflation eased in September.
The National Stock Exchange's Nifty50 index closed 0.97% higher at 18,338.55 points. The S&P BSE Sensex ended 0.94% higher at 61,305.95 points.
The Nifty Bank index, a basket of 12 stocks including the nation's largest lender State Bank of India (SBI), advanced 1.83%. The Nifty Metal index, a basket of 15 stocks including the Steel Authority of India (SAIL), rose 1.77%.
But the Nifty Auto index, a basket of 15 stocks including the world's third-largest bus manufacturer Ashok Leyland, was the laggard, slipping 0.59%.
"Volumes in the Nifty were higher than its average which is a good sign for longs," ThincRedBlu Securities' chief executive Gaurav Udani said in a note to clients, which was emailed to Capital.com. "The Nifty has strong support in the 18,050-18,110 points range. Traders can use the buy on dips strategy with a strict stoploss for 18,380-18,420 points as targets."
Winners and losers
The Indian rupee was trading 0.054% higher to the US dollar, to INR75.26 at 16:55 hours Indian time (UTC+5:30).
On the Nifty, shares of Adani Ports & Special Economic Zone, software major Wipro, and Aditya Birla Group firm Grasim Industries were the top gainers, adding 7.11%, 5.41% and 4.59% respectively.
Mining giant Coal India (CIL), JLR-parent Tata Motors, and smaller rival Eicher Motors were the top losers, shedding 2.92%, 2.03% and 1.88% respectively.
Meanwhile, on the Sensex, shares in cigarette maker ITC, the country's largest private lender HDFC Bank, and the Power Grid Corporation of India (PGCIL), were the biggest gainers, adding 2.89%, 2.86% and 2.51% respectively.
India's largest software exporter Tata Consultancy Services (TCS), competitor HCL Technologies, and lender Bajaj Finance were the biggest losers, shedding 1.22%, 1.17% and 0.85% respectively.
McDonald's growth
Shares of Westlife Development, the owner and operator of McDonald's restaurants in western and southern India, rose on news the firm will boost operations in the country.
The franchisee will deploy about INR10bn ($133m) to strengthen the supply chain and add up to 200 McDonald's outlets, within four years. The move will create between 6,000 to 8,000 new jobs, as per a 14 October regulatory filing.
Private equity deals
Private equity investments in India for 2021 could exceed a record $70bn, according to a report by accounting firm EY, and the Indian Venture and Alternate Capital Association.
The report, reviewed by Capital.com, said deal momentum remains strong and that exits could reach $50bn this year. In the third quarter, investors exited from 88 investments with an aggregate value of $11.3bn.
Read more: Leading Indian film actor says he will launch NFTs in December