Indian shares end week higher with economy primed for growth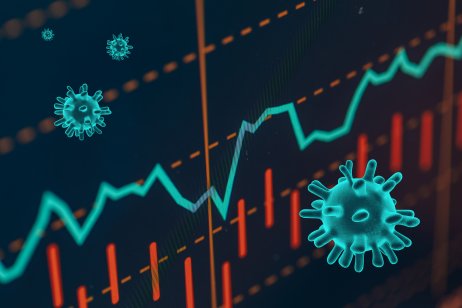 Indian stocks snapped a three-day winning streak to finish lower Friday as market players in Mumbai booked profits. Nevertheless, the key indices gained over 1.5% for the week, bolstered by the government's drive for reforms and expanding vaccine access.
The National Stock Exchange's Nifty50 index slipped 0.25% to 17,585.15 but was up 1.58% for the week ending 17 September.
The S&P BSE Sensex ended 0.21% lower at 59,015.89 points. It advanced 1.61% for the week.
The Nifty Media index, a basket of 10 stocks including the country's largest newspaper group DB Corp, rose 0.98%. Meanwhile, the Nifty PSU Bank index, a basket of 13 state-run lenders including the Punjab National Bank (PNB), lagged, dropping 2.96% Friday.
Nifty Outlook
"In the short term, the market is trading overbought and may witness a small profit booking dip going ahead", analysts at Samco Securities' research division wrote in a note to clients that was emailed to Capital.com.
"The overall positional outlook on the market remains bullish as long as it doesn't cross 17,500 (points) because a break below the same will put a halt to the ongoing momentum. Immediate support and resistance are now placed at 17,400 points and 17,900 points respectively," they added.
"17,760-17,800 will act as a resistance zone for the Nifty," ThincRedBlu Securities' chief executive Gaurav Udani commented in an email to Capital.com. "(It) has support in 17,425-17,460 points range. Traders can use (a) buy on dips strategy with (a) strict stoploss for 17,750 – 17,780 points as targets for the next few trading sessions," he added.
Gainers/losers
The Indian rupee was trading 0.09% higher to the US dollar, to INR73.50 at 17:15 hours Indian time (UTC+5:30).
On the NIFTY, shares of Kotak Mahindra Bank (KMB), larger rival HDFC Bank, and the nation's second-largest telco Bharti Airtel (Airtel) were the top gainers, adding 5.63%, 1.64%, and 1.52% respectively. KMB was founded by Uday Suresh Kotak, who is Asia's richest banker.
Tata Group firm Tata Steel, mining giant Coal India (CIL), and India's largest lender the State Bank of India (SBI) were the top losers, shedding 3.76%, 3.45%, and 2.25% respectively.
On the SENSEX, shares of KMB, HDFC Bank, and Airtel were the biggest gainers adding 5.26%, 1.51% and 1.39% respectively.
Tata Steel, SBI, and the sub-continent's largest private sector employer Tata Consultancy Services (TCS) were the biggest losers, declining 3.57%, 2.07% and 1.85% respectively.
Easing inflation
The Reserve Bank of India (RBI) is of the opinion the pace of inflation in India is slowing faster than expected – a development that could help interest rates remain at record lows.
RBI deputy governor Michael Patra said inflation has moderated into the regulator's tolerance range, and has vindicated the stance adopted by the monetary policy committee (MPC).
Rajesh Exports
Rajesh Exports, the largest manufacturer of gold products globally, secured a INR6.91bn ($94m, £68m) jewellery order from a German company. The order has to be fulfilled by December 2021, the company said in a stock exchange filing.
The Bengaluru-based firm will execute the order from its manufacturing facility that boasts of an annual processing capacity of 250 tons of jewellery and gold products.
The bad bank
The Narendra Modi government announced Thursday a plan to provide guarantees of up to INR306bn ($4.1bn) for five years to the National Asset Reconstruction Company Ltd (NARCL) to help deal with overdue or 'sour' debt. The regime approved a plan guaranteeing security receipts issued by NARCL that will not require any cash outflow from the exchequer.
That announcement followed the slew of reforms rolled out earlier this month
Read more: Biocon partners with Serum Institute for COVID-19 vaccines