Indian broker Motilal Oswal ups Dr Reddy's (DRREDDY) to 'buy'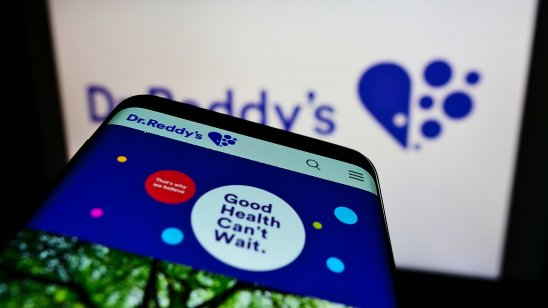 Indian financial services firm Motilal Oswal Securities raised its rating on pharmaceutical major Dr Reddy's Laboratories to a 'buy', citing an improved outlook after niche launches in the US and robust performance in the emerging markets.
The 12-month price target was raised by 17% to INR5,470, Motilal Oswal Securities said. Shares of the south-India based firm traded 1.9% lower at INR4,501 on the National Stock Exchange in the afternoon.
The stock brokerage added that the company's 30% growth in net profit on-year (y-o-y) and sales growth of 18% were above estimates, driven by strong domestic performance in Russia.
"We upgrade Dr Reddy's to buy based on a limited competition products pipeline for the US market, superior execution in formulations, cost control-driven improvement in operating leverage, and the stock's attractive valuation. Covid-related opportunities like Sputnik V in other countries outside India and Molnupiravir could act as potential triggers over the near-to-medium term," said Motilal Oswal in its note to clients.
The company's revenues in the three months to September from the North American market rose 3% y-o-y and 9% on-quarter (q-o-q) to INR18.9bn ($250.6m). Revenues from Europe were INR4.1bn, which advanced 10% y-o-y and 4% q-o-q.
From Russia
Dr Reddy's is negotiating with partners to export domestically-made doses of Russia's Covid-19 vaccine, Sputnik after the government last month approved shipments of other doses of the coronavirus vaccine.
As the main Indian distributor of Sputnik, which is sold only on the private market, Dr Reddy's is competing with other vaccine-makers, doses of which are distributed free by the government.
"We value Dr Reddy's base business EPS (earnings per share) of INR210 at a 12-month forward price-earning multiple of 25times and add INR220 per share from the g-Revlimid (a drug) opportunity. Accordingly, we arrive at a price target of INR5,470 on a 12-month forward earnings basis. We upgrade DRRD to BUY based on its niche products lined up for the US market, portfolio expansion/tapping newer regions in Europe/EMs, superior profitability, and the stock's attractive valuation," Motilal Oswal said.
Read More: India's economy expands 8.4% July-September, above estimate