Indian anti-diabetes drug makers ERIS, MJ Biopharm float JV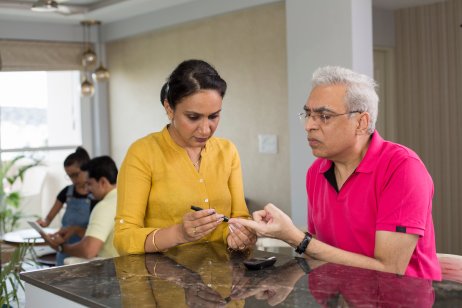 Shares of India's Eris Lifesciences surged in early dealings on Monday following news that the company would partner with domestic pharmaceutical rival MJ Biopharm to sell anti-diabetes medication in the country.
The stock, however, finished lower for the day, pulled down by downbeat trading sentiments.
ERIS, which shot up some 9.8% in early trade, ended 2.71% lower at INR686 on the National Stock Exchange (NSE), valuing the firm at around INR97bn ($1.3bn).
Tapping the local market
MJ Biopharm, which makes formulations for several ailments, would supply products to the venture, while Eris Lifesciences would handle sales and marketing, distribution and pharmacovigilance. The latter would hold a 70% stake in the joint venture (JV), according to a 3 December regulatory filing.
Eris, which sells oral diabetes drugs, said the deal "bridges an important gap" in its diabetes portfolio. The JV will sell human and analogue insulin (Glargine, Aspart, Lispro) and GLP-1 agonists (Liraglutide) among other biopharma products in India.
Eris stated that its debt-free and cash-surplus balance sheet gives it the "ability to invest for the long term". The sub-continent has 77 million diabetic cases. "The availability of additional qualified suppliers will drive growth in India's human insulin, analogues and GLP1 segments; we expect this to grow to (an over) $1bn market opportunity" by the year 2025-26, said a presentation to shareholders.
Complementing strengths
Ahmedabad-headquartered Eris boasts of "strong credibility" with diabetologists, endocrinologists and other opinion leaders nationwide. The seller of the Zomelix and Gluxit tablets also claims a "deep coverage" of specialists and consulting physicians across metros.
Eris bought the Zomelix trademark for the local market from healthcare giant Novartis AG in 2019.
Mumbai-based MJ Biopharm manufactures anti-diabetes and cardio-vascular medicines, among other products. It operates two WHO-GMP/ PICS compliant production facilities in the country.
The maker of the recombinant DNA insulin injection has supplied over 14 million vials, in addition to over four million cartridges of human insulin to more than 25 markets globally since 2015.
Read more: India's Anand Rathi Wealth raises .85m ahead of IPO