Hunting (HTG) stock rises on positive trading update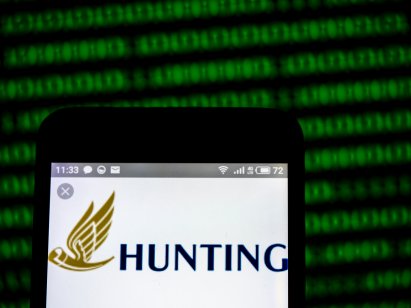 Hunting, the international energy services group, saw its stock rise sharply today on the back of a positive end-of-year trading update.
In a statement to the London Stock Exchange, it reported that trading during the final quarter of 2021 had remained in line with management's expectations.
It also said a "broadly break-even" result for earnings before interest, tax, depreciation and amortization was anticipated for the full-year.
The announcement resulted in the company's stock price rising almost 5% to 151.8p by mid-day in London.
Hindered by Covid-19
Chief executive Jim Johnson acknowledged the speed of the oilfield services recovery had been hindered by Covid-19; strong capital controls by end-user clients; and geopolitical volatility.
However, he noted the group exits 2021 with a "more stable trading outlook", supported by the strong pricing of oil and gas, coupled with ongoing actions to address its cost base.
"We expect 2022 to show further improvements to revenue and profitability with our technology, service offering and quality-assured products being in demand by clients, as new projects commence and activity levels improve," he said.
What is your sentiment on HTG?
Vote to see Traders sentiment!
Strengthened order book
According to the update, the group's order book has strengthened by around 20% in the three months to 30 November 2021 with a significant uptick reported in North America and Europe.
It is expected to increase further in December following strong contract wins by Hunting's subsea business, coupled with successful bidding within the group's US and Asia-Pacific businesses.
"The group has seen a notable improvement in its trading performance during the quarter, supported by the current pricing of oil and natural gas, which is anticipated to continue to the year-end and into 2022," the company stated.
Strong balance sheet
The group's balance sheet remains strong, with a cash and bank position of $77.2m as of 3 December 2021.
"Capital expenditure outflows remain low and management continues to closely manage working capital as market conditions stabilise," it stated.
In addition, the group is likely to conclude the arrangements for its new asset-based lending facility in the coming weeks, as due diligence is completed by the lending group.
US onshore strengthening
The update also reported how US onshore activity continues to strengthen, benefiting the Hunting Titan operating segment, whose results remain ahead of expectations.
"Within the North America operating segment, the US manufacturing, subsea and trenchless businesses have reported improving revenues, which has led to a higher absorption of fixed costs and stable operating profits during the quarter," Hunting stated.
The Europe, Middle East and Africa operating segment continues to report subdued trading; however, cost management measures implemented earlier in the year are now significantly narrowing trading losses.
"In Asia-Pacific, the segment has also seen an improvement in sales leading to a broadly break-even result being reported in November," the company said.
Read more: Cleaner energy to dampen oil, gas and coal demand after 2025